Dewey Rethman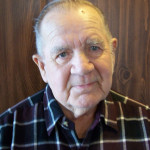 Dewey Rethman, from the Flint area, later moved to Manistique, MI with his wife of 60 years, the former Donna Garrison. They had three children: Eddie (deceased), Cathy Fagan & husband Al, and Randy Rethman. Dewey's crew, was engine man: Jerry Dodge, Chassis: Ron Ross and Chuck Dodge. Dewey ran with his team all 31 years. On occasion, he also drove for Van Haute Chevy, Tommy Olson, Jimmy Roberts & Dale Woolworth's second car.
Dewey started racing in 1950 at Auburn Speedway and his last race was at Dixie Speedway. Dewey had over 500 feature wins and 30 track Championships. He raced up to six days a week, many times running cars in two classes. In the 1960's, Dewey was track champion at Auto City in a six cylinder and the V-8's threatened to quit, so he was banned against running with the 8's.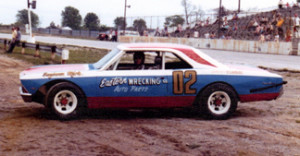 He raced at Auburn, Dixie, Berlin, Jackson, Owendale, Zilwaukee, West Branch, Spartan, Auto City, Standish, Merritt, Whittimore, Owosso, Oscoda, Saginaw Fairgrounds, Clare, Reese, Mt. Pleasant, and Crystal Speedways. He raced against Hall Of Fame Drivers, such as: Cy Fairchild, Johnny Roberts, Jimmy and Donnie Roberts, Jay Woolworth, Larry McCloskey, Jack Goodwin, Tommy Lane, Tommy Maier, Dick Carter, Wayne Landon, Johnny Benson Sr., Mickey Katlin, Joy Fair, Mike Eddy, Butch and Gary Fedewa, Benny Parsons, Tiny Lund, Jimmy Nelson and many others.
Dewey raced and won in Six Cylinders, Super Late Models and Super Modifieds. Dewey's biggest racing thrills were in the fifties, when he won the last feature ever run at Zilwaukee and was many times, Sportsman of the Year at many tracks. Dewey also won the last race at Dixie Speedway on dirt, May 31, 1959, and the first race on pavement when they reopened on June 12, 1969 and had the Purple Coat to prove it.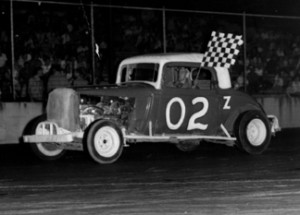 In the 60's, Dewey raced against Benny Parsons and beat NASCAR's Tiny Lund at Auto City. In 1969, he won Mid-Season Championships on Thursdays at Auburn, Saturday at Auto City and Sunday at Dixie. He was the track champion at Auto City with a six against V-8's. The next year they wouldn't let him run against the eight's with his six. In the 70's, Dewey won a Marc Times Invitational, August 11, 1970 against the top drivers from: Michigan, Indiana, Ohio, Canada and thru out the Midwest. He also won many M.S.P.A. Carling Circuit of Championship races in the 70's, but, his biggest thrill in racing was his first race against his son, Eddie at Auto City. Eddie went on to be a great driver in his own right, before cancer took him at the young age of 38. Dewey likes his wins and championships, but his Sportsmanship and Fan Favorites Awards meant more than anything, because the fan's voted for him.
Dewey was involved with racing with his Grand-Daughter, Holly Rethman racing Go-Karts for Warrior Racing until his death at the age of 85 on February 24, 2014.