Larry McCloskey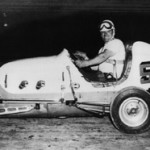 Larry McCloskey started racing in 1948. A self-taught driver he learned to drive by practice and watching the other drivers. It did not take him long to decide that he wanted to be a successful racecar driver.
He received his experience when he started out in stock cars, and had one of the first stock cars that ever ran at Auburn, MI. This would later help him develop into one of the best drivers in the state, and would carry over later in his career.
By 1955, due to his determination and talent, Larry ended the season by being named, Dixie Motor Speedway champion. This would include 8 features, and 17 heat race victories, as well as 9 Australian Pursuit wins. Never satisfied and always wanting more, he started working on his ability in midgets and sprint cars.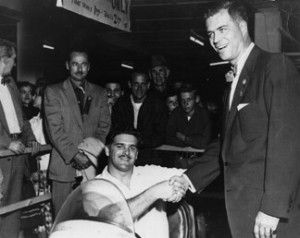 As always Larry caught on quickly. With his unique style he excelled rapidly. Now known as "Hot Socks McCloskey", he was making a respected name for himself, as well as developing a large fan club.
In 1957 he finally achieved one of his goals in racing. He became the Central States Racing Association (CSRA) midget champion, as well as the CSRA stock car champion. His next goal was the CSRA sprint car championship, which he achieved for two consecutive years in 1958 and 1959.
He drove in relief of Red Renner in the 1959 "Little 500" in Anderson, IN, where they finished second. During these years he drove his own cars as well as for other owners. Larry has the distinction of owning and driving the first Offenhauser midget based out of Saginaw, Michigan.
In the 1960's he slowed his racing down due to his love for his daughter. Newly divorced and now a single parent, and because Larry's daughter was concerned what would happen to her if he was seriously injured. Larry quit driving. Still Larry found ways to stay in the racing industry. Unable to stay away from the thrills of the sport, Larry purchased the sight unseen Owendale Speedway in January of 1966. Owendale was only a grass field with no electricity. During the next months, Larry, by himself, put in a well; concession stands and installed the electric. He wanted it up and running smoothly by racing season. The track opened on April 27, 1966. That first night he had 11 cars, and 80 spectators. The next week he had 90 cars and 6,000 people. So successful was the Owendale track that he built and opened another track called Imlay City Speedway. Larry ran both tracks for a number of years, before selling them. Although the Imlay City track is just a memory, Owendale still runs every Saturday night during the summer. Some of the buildings at that track are the original ones Larry built. Today Larry is still involved in racing. He closely follows all issues of racing.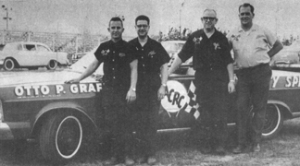 When he wasn't racing he had a recording studio, becoming a record producer. Still recording and producing artists, he is currently promoting a group that will perform at all kinds of racetracks. "Hot Socks McCloskey" wrote and produced all of the music and lyrics. Using his experience as a professional racecar driver to put together an amazing show of music that people can enjoy in the summer of 2002.
Never to be forgotten, "Hot Socks" died on December 15, 2016 at the age of 88. (1928 - 2016)