Dave Boertman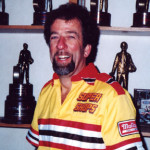 A native of Muskegon, Michigan, Dave began drag racing in 1962, competing at U.S.131 Dragway at Martin, Michigan, and Central Michigan Dragway at Stanton, Michigan and the old Grattan Dragway at Belding, Michigan. He advanced to Divisional Point Meet and National Event Racing in 1966. Dave has been a Five-Time NHRA World Champion!
1968 in stock category
1971 in stock category
1972 in super stock category
1977 in super stock category
1985 in super stock category
In spite of the fact that Dave left the sport from 1978 through 1984, his five world championship season wins still rank him 2nd overall in world championships, regardless of professional or sportsman category! Only pro stock class driver Bob Glidden from Whiteland, Indiana, drag racing's all-time winningest driver, has more world championships at ten career wins.
With 17 career N.H.R.A. National event titles, Dave is the 10th place, all-time all-category winner of these titles.
On the subject of Divisional (Regional) Season Championships in a given category, Dave has been NHRA Division #3 season champion 5 times, winning titles in either stock or super stock.
This ranks him 3rd, all time, all category in these wins. In addition to the seasonal titles, Dave has a great number of individual divisional points race wins and has been a National Class record holder more than 30 times.
In IHRA National Event Competition, Dave has virtually mirrored his NHRA accomplishments by having won more than 15 titles over the years in the Super Stock Category. Several class elapsed time records were also attained in IHRA competition.
As is true with many successful drag racers, they tend to be their own best engine machinists and builders. Dave is no exception; in fact he is regarded as being one of the absolute best and an innovator of the highest degree.
I hope this information will well qualify Dave Boertman for admittance into the Michigan Motor Sports Hall of Fame.