Jack McCormack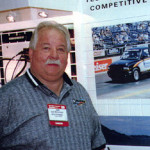 Jack McCormack, born in Detroit, MI in 1942 and raised in an orphanage, is the epitome of the quintessential self-made man, and working from the bottom up, the classic American success story. Jack's first car at age 12 was a 1950 Dodge. His first car for drag racing at age 17 was a 1956 Chevy with a 292 c.i. small-block V-8. In the years to come, Jack eventually spent nearly 20 years specifically involved in the wheel and tire business. The legendary Wheel City, and Jack McCormack Racing Enterprises in the Detroit area, grew into national and international status. Jack & Co. was the first to specialize in the mass inventory of racing wheels and tires. They became the first, and only wheel and tire company to sponsor NHRA Divisional Point races. Throughout the Wheel City / Jack McCormack Racing Enterprises years, Jack sponsored and/or owned more than 85 Sportsman-category drag racing cars, with most of these cars competing in the NHRA and IHRA Super/Stock and Stock classes.
With Jack's dedicated help and involvement, many of the top drag racers in the Midwest attained great heights in Sportsman-level competition. Over 500 National Event individual Class Champion wins, over 100 National Records, and many National Event Eliminator wins were attained by McCormack-backed cars and racers. Don Holben, Don McElroy, John "Zoomer" Cseh, and Pam Sanders, were just a very few of the McCormack-backed racers who either won Major National Events, and/or won NHRA Division #3 season point titles.
One year at the NHRA U.S. Nationals, Jack's team of familiar and pristine all-black racecars won the prestigious Best-Appearing car award, all 8 of the cars! This remains the only time that NHRA has awarded this to multiple cars at one race event. During all these years, Jack found that getting a chance, and finding the time to go racing on a personal level became impossible, but being the devoted family man that he is, Jack made it happen for the family. His wife of many years, Judy, his eldest son John, and daughter Jennifer, has been accomplished and experienced Stock class drag racers for a number of years. Also, youngest son Jason has now become involved as a competitor. It is indeed a McCormack family philosophy, "The family that races together, stays together."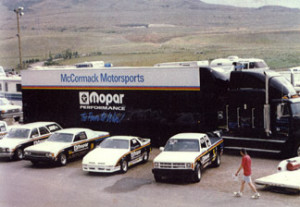 Eventually, Jack sold his interest in Wheel City, and sold McCormack Racing Enterprises with the name. In the last year of Jack's involvement and direction, the companies had gross sales of 54 million dollars. Not one to rest much, Jack and family started McCormack Motorsports, Inc., a major high-performance automotive promotions firm, now located in Oxford, Michigan. In recent years, Jack & Co. have had as many as 15 display truck/trailer rigs at all the major drag racing events, representing 48 major contingency sponsors and high-performance parts manufacturers. This includes all of the representation for MOPAR Performance for Chrysler Corporation. All of this representation also blends into major trade shows such as PRI and SEMA, car shows, and other select events. Within the overall structure of the company, there are a total of 36 display units on the road. Jack has other racing-related businesses as well. McCormack Trailer, Inc. is supplier of enclosed racecar trailers of all sizes, McCormack Golf Carts, Inc.; supplies the golf cart rental concession at major NHRA and IHRA events. McCormack Holdings, Inc.; owns and leases vehicles and buildings, and through McCormack Motorsports, Inc.; Jack owns the tractor-trailer race car transporters that are used by MOPAR Pro Stock/Pro Stock Truck competitors Scott Geoffrion, Darrel Alderman, and David Nickens.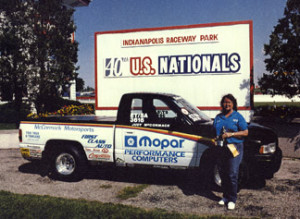 Throughout all of this success and fame, Jack McCormack has remained the same: friendly, personable, I tell it like it is guy, devoted family man, and the friend and ally of racers, regardless of their level of "cubic dollars".
His wife Judy died in 2011.