Jack McCourtie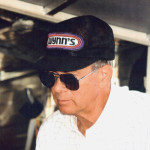 Jack McCourtie was born on July 8, 1932, and is a life long resident of Jackson, Michigan. His interest in boat racing was sparked at the age of 13. He raced for the first time at age 15 on Price's Lake (east of Center Lake) in 1948 using a 2 cylinder, 5 horsepower Evinrude "Elto" on a "J" class boat. In 2001 he competed in his last race at the Dayton, OH Hydroplane Regatta driving a 15 cubic inch American Hot Rod on an "A" Modified runabout. He was 69 years old and had accumulated 54 years of racing.
Boat racing is still Jack's great passion in sports. He designed and built his own boats for the "J", "A", "B", "C", and "15 super stock" classes, never racing a factory built boat. Most of the mechanical work on the motors and propellers were done by himself. He designed the first cleaver propeller used by Chuck White and Ray Mason. He also designed the first square nose runabout race boat, incorporating the first integrated deck and cowl used on a runabout race boat.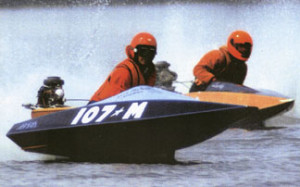 During his career Jack raced many different engines: 2 cylinder 5 horsepower Evinrude Elto (198); 5 horsepower Mercury (1949-1950); 7 horsepower Rocket (1950-1951); 7.5 horsepower KG-4 H Mercury (1951-1952); 2 cylinder 20 cubic inch Mercury 20H (1955-1957); 4 cylinder 30 cubic inch Mercury (1958-1980); 20 cubic inch Japanese Yamato, the first in Michigan (1980-1981); 15 cubic inch American Hot Rod (1985-2001).
In his lifetime of racing, one of which would not have been possible without the love, devotion and full support of Virginia, his wife of 46 years, they travelled thousands of miles with their four children. Their travels took them to places like, Seattle, WA; Salt Lake City, UT; St. Louis, MO; Alexandria Bay, NY; Lake Placid, NY; Hinton, WV; Elizabeth City, NC; Boston, MA; Guntersville, AL; Alexandria, LA; Lake Saranac, NY; and Dunnville, Ontario Canada.
Some of his accomplishments include the Top O' Michigan 87 mile marathon winner in 1957; Regional High Point Champion in "C" stock runabout in 1962, 1963, 1964, 1965, and 1970. He was Divisional Champion in the same class in 1963 and 1969. He was also the U.S. High Point champion in 1963 in "C" Stock runabout. In 1990 Jack was the Regional champion in 15 super stock runabouts. In 1992 he was the Regional champion in "A" runabout as well as Michigan Hydroplane Series High Point Champion in the 15 Super Stock runabout class.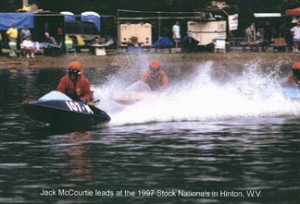 He competed in the Top O' Michigan 87-mile marathon races 31 times. He last won the event as "B" stock runabout champion in 1997 at age 65. Two years later he was the Regional and Divisional "B" stock runabout champion as well as the North American Champion in "A" modified runabout.
He attended Michigan Center High School and graduated with the class of 1950.
During his service in the Armed Forces from 1952 to 1954, he spent two years in Germany.When he returned home, he attended Ferris Institute College in 1955 and 1956 and worked for the New York Central Railroad as a fireman for five years.
Aviation is also one of Jack's interests. He attended Jackson Community College for ground school.In 1979 he earned his private pilot and seaplane license, and has since logged over 2000 hours, most of them with his wife Ginny. They are the parents of Lorie, Kevin, Don and Cheri. Three of their children reside in Michigan and the other in California. Jack passed awai in 2020