Don McElroy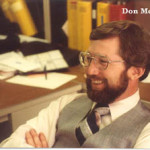 Don McElroy of Fenton, MI was one of the most prolificly-winning Drag Racers in the NHRA Stock and Super/Stock ranks that ever stepped into a race car. 2007 MMSHOF drag racing Inductee, longtime friend, and fellow racing teammate Don Holben once referred to Don McElroy as the smartest, and the most naturally instinctive competitor that he has ever known.
Don McElroy recalls his earliest racing/automotive interests to have been generated by go-karts, Cushman scooters, and Wizard motorbikes. That led on to a '57 Chevy two-door 283, dual quad, 4-speed car that Don drag-raced in the old NHRA Gas classes in his native Spokane, WA region. In 1967, with a '55 Chevy and the help of friend Johnny Bevan, Don had his first taste of success by winning the Modified Eliminator title at the Fuel and Gas Championships held at Arlington (Seattle), WA.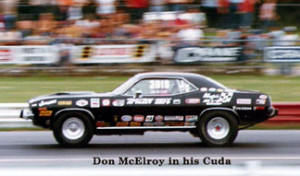 Don married his wife Kit in 1968 as they were both finishing their college degrees at Washington State University. Soon after, they found themselves permanently relocating to Michigan when Don took an engineering position in the Climate Control group at Ford Motor Co. The racing endeavors took a back seat for a while until 1972 when Don began bracket racing at Lapeer, MI. That quickly graduated into a serious bid to get into competitive, championship-level NHRA Stock Eliminator racing. That took place with a '69 Camaro, first with a 396, and then eventually switching the engine combination to a more class-competitive 350. 2008 MMSHOF drag racing Inductee Gary Long raced Don's Camaro at the 1974 NHRA World Finals at Amarillo, TX. However, prior to that, 1974 was the year that really kicked off McElroy's string of successes that make most Sportsman drag racers envious:
1974 NHRA Division Three Stock Season Champion
1975 NHRA Division Three Stock Season Champion
1975 NHRA U.S. Nationals Stock Eliminator Champion--Indianapolis Raceway Park
1977 NHRA Fall Nationals Stock Eliminator Champion--Seattle, WA
1977 NHRA World Finals Stock Eliminator Runner-up--Ontario, CA
1978 NHRA Mile-High Nationals Stock Eliminator Runner-up--Denver, CO
1978 NHRA LeGrand Nationals Stock Eliminator Runner-up--Montreal, Canada
1980 NHRA Division Three Stock Season Champion
1981 NHRA Division Three Stock Season Champion
1982 NHRA U.S. Nationals Stock Eliminator Runner-up--Indianapolis Raceway Park
1984 NHRA NorthStar Nationals Stock Eliminator Champion--Brainerd, MN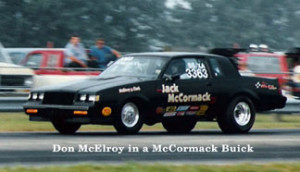 55 National Records in various classes, an eliminator win and another runner-up at the Popular Hot Rodding Magazine Nationals at Martin, MI, countless number of individual class titles at NHRA National events, many Divisional Point Meet wins and runner-ups, along with six NHRA Division Three Season Champion Runner-ups. To date, Don remains the only four-time NHRA Division Three Stock Season Champion. After Don's big success at the '75 U.S. Nationals, Chrysler came calling with a major racing sponsorship tied in with 2000 MMSHOF Inductee Jack McCormack's racing team. The team also included MMSHOF Inductee Don Holben and 2004 MMSHOF Inductee Harry Doolittle, who at a time, was Don McElroy's racing partner, and has also been a longtime close friend.
In 1986, Don McElroy was involved in what turned out to be a career-ending crash. Serious crashes in Stock and Super/Stock drag racing are not typically common, but Don unfortunately made up for the general lack of those at Bowling Green, KY. Driving fellow Michigan drag racer and friend Terry Clark's Super/Stock Buick SkyHawk, Don crashed right at the finish line at approx. 138 mph, rolling end over end 8 times. Don was hospitalized for many months afterwards, and elected to end his successful career after his long and difficult recovery. At the 2013 submittal date of this bio, Don McElroy had only recently retired from his engineering position at Ford Motor Company, and he and wife Kit are enjoying retirement.