Rod McLean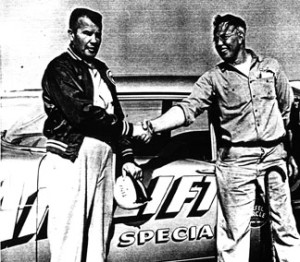 For more than four decades Rod McLean of Lansing has held a position of prominence in motor sports. His activities have been both regional and national in scope. He has served as a track official, race mechanic and car builder of considerable note.
Rod began his long involvement with motor sports in the late 1940's. He started at Capital City Speedway, near Lansing, with a driver by the name of Frank Judge. He then commenced a long association with his brother-in-law Bob Pemberton. They would team to field cars for some of NASCAR's finest drivers. Under the Air Lift corporate banner McLean also created some special stock cars, which set numerous speed, and endurance records on the sands of Daytona Beach and the high banks of Darlington, South Carolina and Atlanta, Georgia.
Rod created cars for a number of noted drivers. The list includes Buck Baker, Paul Goldsmith, Darel Dieringer, Lee Petty, the Flock brothers, Marvin Panch, Junior Johnson, Speedy Thompson, and Billy Myers.
One of the cars most closely identified with Rod is a 1950 Oldsmobile Eighty-Eight Fastback, which today is housed in the Joe Weatherly Stock Car Museum in Darlington. The car saw early duties as a Late Model on the NASCAR Grand National circuit. Later it was revitalized into a performer in NASCAR road races and modified stock car events. The car remained competitive well into the 1960's. Later in the decade it was restored by Rod and Bob Pemberton and driven into the Weatherly Museum as a prime example of a bygone racing era.
In 1957 Rod was chief mechanic on the Air Lift J2 Rocket Special. During speed weeks at Daytona Beach, the car timed at 144 mph, the fastest official time of the year. In 1958 Rod rebuilt the 1950 Oldsmobile and entered it in the last race on Daytona's old beach and road course. With Goldsmith driving, the car finished fifth. The highest finishing position of a Michigan built racecar, in a NASCAR race, up and until that time.
In 1960 Rod entered the car at Daytona, where Lee Petty drove to a fourth place finish. In the first modified stock car race at Atlanta Speedway with Buck Baker driving, they took first place. In 1961 Dieringer was running third when a fan belt blew causing a 21st place finish.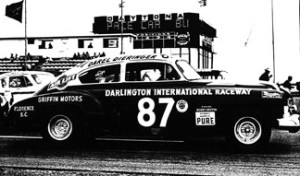 During 1962 thru the 1964 seasons, McLean built and maintained a 1962 Plymouth with Jody Pemberton, sponsored by Air Lift. The car ran at Daytona, with Doug Cooper driving, as well as many small tracks in USAC, MARC, and ARCA races.
In 1963 Rod built a 1950 Plymouth business coupe, running a six-cylinder flat head engine, Gary Fedewa won the points and season championships at Spartan Speedway and Jackson Motor Speedway. In 1964 a Chrysler hemi-engine was installed and Fedewa won over 60 heat and features and won the point championship.
Rod had Mel Gillette drive a 1969 Oldsmobile at the USAC Twin 200. His new car finished 14th. During the next three years, Rod campaigned this car in ARCA and USAC events. During this time, noted drivers would wheel his racing equipment. The list included Gary and Butch Fedewa, Jack Calabrase, Ed Damer and Gillette.
When local track promoters Tom, and his father, Lynn Kestenholtz needed someone to fairly and firmly administer rules at their speedway they turned to Rod as their technical inspector. For almost two decades, Rod was instrumental in initiating safety regulations to local area tracks, insuring safety of the drivers, pit crews and spectators. As tech inspector, his fairness and concern for driver safety won him respect from every driver he dealt with. Rod's association with Spartan carried well into the 1980's.
The 1990's find Rod still active in motor sports. He still finds time to help Scott Pemberton with his racing efforts. Rod has helped Scott and his father Jody create a series of Pro Stock racecars over the last several seasons.
Any one of the efforts put forth by Rod McLean would be enough to entitle him a place in the Michigan Motor Sports Hall of Fame. Viewed collectively the conclusion seems even more obvious.