Harry Melling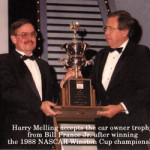 Harry Melling, from Jackson, became involved with racing in the 1970's when his Melling Tool Company began sponsoring race cars at Jackson Motor Speedway and Butler Motor Speedway. Bill Younkins was one of his first drivers. Melling then got involved in NASCAR Winston Cup Racing in 1980 by sponsoring Benny Parsons. In late 1980 and all of 1981 he sponsored Parsons and Bill Elliott.
Melling Tool was founded in 1944 by George and Ben Melling, the grandfather and father of Harry. Harry was born that same year. His father and grandfather began by tooling for the war effort and then switched the emphasis to building oil pumps for Ford engines after the war. Harry started working in the family business when he was 12, and became the president of the company in 1975 and continued building the company, establishing warehouses in various locations across the country and Canada. It was Parsons who suggested to Melling he should buy Elliott's team. Melling once quoted, "Benny had a lot to do with it (the team purchase), He told me that was a good team to help. Everything seemed to fall in place."
On December 1, 1981, Harry Melling, President of Melling Tool Co. bought the Elliott Race Team and changed the name to Melling Racing. From that time forward the following reflects the career highlights of Harry Melling in NASCAR Winston Cup Racing. Here are just some of the highlights of the Melling and Elliott team.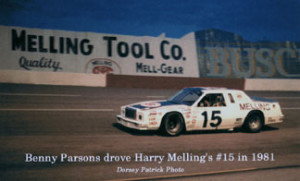 1988 Winston Cup Champion. 34 Winston Cup Wins. 33 Superspeedway Wins. 40 Winston Cup Poles. 35 Superspeedway Poles. Winner, 1985 & 1988, American Driver of the Year Award. Won inaugural Winston Million by winning three of the Big Four events (Daytona 500, Winston 500, Southern 500); collected $1 million on September 1, 1985 at Darlington. Won the Winston in 1986 at Atlanta Motor Speedway. Won record 11 superspeedway wins in a season, 1985. Won record 4 consecutive races at one superspeedway, Michigan 1985-1986. Tied all-time record of 4 superspeedway wins in a row, 1985. Tied all-time record of 11 superspeedway poles in a season, 1985. Set a stock car 500-mile closed course race speed record of 186.288 mph in winning the Winston 500 non May 5, 1985 at Talladega Superspeedway. Set all-time stock car qualifying record of 212.809 mph on April 30, 1987 at Talladega. NMPA Driver of the Year. Won 125-Mile Qualifiers for 1986 and 1987 Daytona 500. Finished 2nd in 1987 and 1985 Winston Cup standings, 3rd in 1984 and 1983, 4th in 1986 and 1990, 6th in 1989, 11th in 1991. Most popular driver in 1984, 1985, 1986, 1987, 1988, 1991. First win came in 51st start, Western 500 on November 20, 1983 at Riverside. First pole came in 15th attempt, Champion Spark Plug 400 on August 22, 1982 at Michigan Int'l Speedway.
Won Busch Clash in 1987 Won 1982 Ingersoll-Rand/Pronto Pit Crew Championship. Sponsored Benny Parsons in 1980-1981, Parsons won 3 races each year. Winnings topped $1 million on July 29, 1984 at Talladega. Winnings topped $10 million dollars on November 18, 1990. Harry Melling, who also owned the Sylvan Resort in Gaylord, died in 1999. (1944 - 1999)