Paul Mercure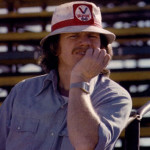 Paul Mercure began his ventures into drag racing in the 1960s, whetting his interest first, like many Detroit-area racers did, on the infamous Woodward Avenue scene. Paul s first car for this purpose was a 1960 Corvette. He quickly moved into a more serious degree of competition, by beginning to attend NHRA events at both the regional and national levels. Paul's career-long partner throughout all these years has been Mike Keener. Together, they formed the now legendary Team Checkmate, always racing early Camaros, as they do to this day. In the early years, Paul predominately raced in the Modified classes. He had the national distinction of being the first small-block powered Modified Eliminator car to run a 10-second, then eventually, a nine second e.t. He won the NHRA Division 3 Modified season point championship in 1981, the last season that NHRA hosted the Modified Category. Prior to that, while racing in the Southeast U.S., Paul won the 1977 NHRA Division 2 Modified season title by winning five out of the six point meets!
In 1982, NHRA absorbed Modified Eliminator into the Competition Eliminator category. Team Checkmate continued to compete in various classes within that category. In addition to Paul having netted previous National event eliminator wins at the 1974 and 1979 NHRA Sportsnationals, he won the 1982 NHRA Winston World Finals at Pomona, CA. Over the seasons, Paul has won three major NHRA National events, and has been runner-up at NHRA events 14 times. In IHRA event racing, he also has a number of runner-up finishes at both National and Divisional events.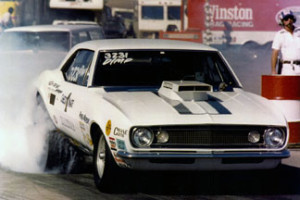 In more recent years, Team Checkmate reinvented itself by switching it s attention to Stock Eliminator competition. Still the long-familiar white early Camaros, the current driving team includes Paul, Mike, and newer member, Mark Yamarino, with all three cars classified as either A/Stock or B/Stock, and big-block powered. In 2000, Mike Keener of the Checkmate team, was instrumental in bringing about a very successful plan in concert with IHRA. Top Stock Eliminator, allowing cars from the upper alphabetical Stock classes, was introduced at the 2000 IHRA World Nationals at Norwalk, Ohio. A heads-up, no breakout rule throwback to drag racings early days of factory-involved match racing. It was an enormous hit with the fans, and IHRA has a several event schedule planned for 2001. In the forefront of the Team Checkmate driving staff is Paul Mercure, striving to win these events as well as all the other major NHRA and IHRA events.
Included in his efforts for 2001, is the nationwide, highly publicized, and hotly contested effort to be the first NHRA or IHRA-legal Stock Eliminator race car in drag racing history, to run an unprecedented nine-second e.t. While Riverside, California s Robert Pond ran a high altitude-adjusted nine-second run at Boise, Idaho in April 2001, no one as yet has recorded an actual nine-second run with a legit nine-second time slip. Many are betting on Paul Mercure to get there first, especially Team Checkmate. Update: This feat was secured later in the 2001 season at an NHRA Points race at Mission, British Columbia, Canada, by Gallup, New Mexico's Bobby DeArmond, but the Paul and the Checkmate team remained so close in the hunt until it was over, traveling to wherever in the U.S. it was necessary to attain the record, a tribute to the dogged determination of Paul Mercure.