Henry "Butch" Miller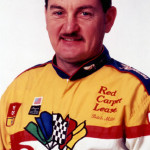 Henry "Butch" Miller started his racing career about 1968 at Galesburg Speedway. He was born in Chicago and his family moved to Benton Harbor while Butch was in Junior High.
His first win came at Hartford Speedway and has since amassed an incredible 300 plus wins. He is best known for his exploits in some of the major late model and truck racing sanctions. In American Speed Association (ASA) competition he has won the championship three times and has finished in the top ten six other times (5th - 1981; 4th - 1982; 3rd - 1983; 8th - 1984; 2nd - 1985; and 3rd - 1986).
One of his first wins under the ASA banner was in the Hartford 100 on May 21, 1978. He would go on to win over 30 ASA races.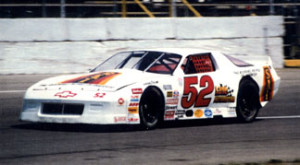 He won the only ASA race ever to be held indoor on February 27, 1983 at the Pontiac Silver Dome. Later that season he won a 300 lapper at Bristol Speedway in Tennessee. He had seven wins in ARTGO competition in 1985 and another four in ASA including a 200 mile event at Michigan International Speedway. In 1986 he won nine times in ARTGO competition but came up just short as he finished second in final points to Joe Shear. He also won five ASA races that year.
The season Butch Miller will most likely remember best was in 1987. He won the ASA championship by winning six of the 11 races as well as winning the Stock Car Connection title by winning three of their four races. He also finished second in ARTGO points to Dick Trickle after winning five races. He then topped the season off with a win in the prestigious Snowball Derby at Five Flags Speedway in Florida. In 1988 he repeated his ASA title after winning six races. He also won two All-Pro races including the Nashville 400 and to top it off, he then became only the second person to win both the ASA and the ARTGO titles in the same year as Dick Trickle did so in 1984 & 1985.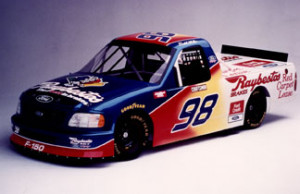 The 1989 season saw Butch win eight times in 15 ASA races, but he finished second in points to a consistent Mike Eddy. Butch also had four ARTGO wins that year.
Late in the season he ran a couple of NASCAR Winston Cup races for Troop Motorsports, his regular ASA owner. Butch began the 1990 season running the #98 Travis Carter entry on the NASCAR Winston Cup circuit. He had numerous top twenty finishes and one top ten when he finished eighth at Pocono. His Winston Cup season ended after only 23 races but he still finished 27th in the final points. He also had one ARTGO win that year and a win in the ASA sanctioned 300 lapper at the Minnesota State Fairgrounds. In 1991 Butch Miller ran the NASCAR Busch Grand National series for Butch Mock and won a 276 lap race at Hickory Motor Speedway in North Carolina. He ended the season by finishing 16th in the final Busch Grand National points.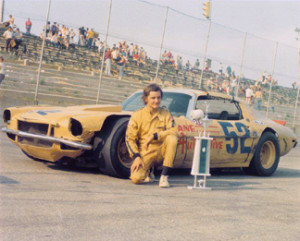 He also ran a few races in ARTGO winning two races including the National Short Track Championship at Rockford, Illinois. He continued to run for the Mock team until he came back to the Midwest in 1994 and claimed his third ASA title after winning twice.
In 1995 found Butch Miller attracted to the new NASCAR Craftman Truck Series. He finished 4th in points in the final points after winning a race at Colorado National Speedway. In the 1996 he finished 7th in the final NASCAR Truck points and he continued in the thick of the point battle in the Craftsman Truck Series until switching back to ASA in 2000.