Tommy Bowles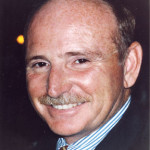 Since the Mid-1960's "Ten-Grand" Tommy Bowles had thrilled race fans with his ability, his competitiveness, his love of racing, and his penchant for last-lap passes for wins.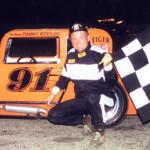 The crowd had always enjoyed his big smile and his trademark fist-in-the-air after each victory. Tommy has won over 100 feature races and 17 track championships in his career. In 1982, he won 32 races in one season. An injury forced him out of racing in 1989, but returned in 1995 and won two track championships in that season.
The following year Bowles started driving dwarfs in Midwest Classic racing series. He won the series championship, winning all but one main event. Tommy won the next 3 series championships and took the Dwarf Car World Series in 1998. The following year Tommy tragically lost his life attempting to repeat his world championship in Florida.
"Ten-Grand" Tommy Bowles will always be remembered as a member of the Michigan Motor Sport Hall of Fame. Celebrating his career, his accomplishments and his sportsmanship.