Glen A. Myers
Glen A. Myers was born in Indiana on July 7, 1905 and died August 27, 1939. He also lived in Jackson and Detroit, Michigan and Dayton, Ohio. Glen started racing in the early 1920's on the hobo track in Napoleon, Michigan. He raced in Detroit at the State Fairgrounds Coliseum, V.F.W. track, University of Detroit Stadium, Jackson Fairgrounds, Kalamazoo Fairgrounds, Ionia Fairgrounds, and Lakeside Park in Flint. He also raced in Marion, South Bend, and Fort Wayne, Indiana as well as in Iowa, Wisconsin, Ohio, Illinois, the Mobile Fairgrounds, Alabama. Other tracks he raced at included Jacksonville and Miami, Florida and finally Hamburg, New York.
His two home tracks were Jackson and Detroit. He was almost unbeatable on the Jackson track, where he held the track record. He also held track records in Detroit at various times in both sprint cars and midgets. He held numerous track records at one time or another at tracks throughout the country.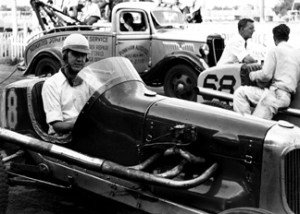 In 1933 at the V.F.W. track in Detroit, Glen won four big car feature events. In 1934 the V.F.W. track gained national recognition with its sensational big car meets. Glen won five of those meets plus the last race of the season, a 100 lapper and he was named track champion. In 1935, ten big car meets were held at V.F.W., topped by two big midget races. Glen won five of the big car meets and the 50 lap Michigan Midget Championship. He was also named the National Dirt Track Champion. In late September of 1935 the world's first long distance midget race was held on the half-mile track. The 200-lap classic went to Gil Guthrie of Los Angeles in the first Offenhauser powered midget to run in the Midwest. Glen qualified third and finished fourth against the best midget drivers.
In his seventeen years in racing, Glen was in the hospital only once for any length of time. It was on December 7, 1935 at the State Fairgrounds Coliseum in Detroit while driving a new outboard powered midget owned by Ernie Young of Detroit. He was hit broadside by Jimmy Snyder's car and his car leaped 10 feet in the air, turning end over end and came down on top of him. He suffered a fractured skull, several broken ribs and severe lacerations. For 11 days he couldn't lift his head off the pillow. He was in very serious condition. He was in the hospital for two months from that accident.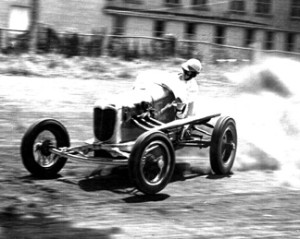 His nephew, Clair Myers, remembers the many times his father and Glen would come home after they had been racing and they would wake him up at two or three in the morning, and they would have hot dogs, which he liked, and tell him all the stories about his racing. Clair remembers when his grandfather told him about an accident at Dayton, Ohio where the car barrel-rolled when he blew a front tire. The car rode the fence for a while and then went through a sign board, and all that he had was bruises to show for it. Another time he remembers a story about hazardous conditions while racing on a dirt track in South Bend, Indiana. Glen told him, "It used to get so dusty we couldn't see the fence and we would guide our course by watching the tree tops, and other land marks." Glen added, "How could we see each other? We couldn't. We went by sound. Sometimes you didn't hear the other fellow skid, then maybe there would be a crackup."
Glen quit driving midgets after his stay in the hospital to concentrate on the AAA cars, and sprint cars. He was an easy going person, until he got into a race car, when his intensity level was to get as much out of the car and himself as he could. In 1939 Glen was promised a new car to race in the Indianapolis 500 for 1940. He needed to race in one more big Triple-A sanctioned race to have enough points to go there. At that time you needed so many points to be eligible to race at Indianapolis. He went to Hamburg, New York on August 25 to race. He did not have to win the race, just compete to get the points. He was driving Mert Harris' Fronty Ford 19, when a car spun in front of him, which he hit hard. That broke his seat belt, tossing him 15 feet into the air and landing on the track with a broken neck, which took his life. Glen was well liked by fellow drivers, and was real popular with the fans. He was one of Michigan's true pioneers of sprint car racing. (1905 - 1939)