Chet Mysliwiec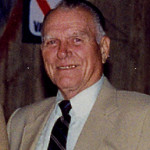 Chet Mysliwiec was racing a Fronty-Ford back in the 1930's around the dirt tracks of Michigan. After World War II he bought a midget that soon claimed the title, "The fastest Ford 60." Harry King and Speedy Wynn drove for him on the Michigan tracks and also in Tampa, Florida.
By 1950, midget racing was dying out and now stock cars came on the scene. Mysliewiec now entered into a new phase of auto racing by forming the "North Michigan Stock Car Club," running first at Nunica and then moving to the Grand Rapids Speedrome when it opened. When a controversy occurred at the Speedrome, Chet met with the Berlin Fairground board and leased the Fairgrounds, built a 1/5-mile dirt track and opened in 1951. Later Chet promoted the Ionia Fairgrounds (including a 500 lap race on the 1/2 mile dirt) and Kalamazoo Motor Speedway.
We must remember that in order for racers to enjoy their profession, they must have a racetrack to race on. Michigan has seen dozens and dozens of auto racing promoters come and go. Realistically, we must admit that Chet Mysliewiec is and has been a successful promoter. Did this come about by accident? In the words of Chet himself, "A lot of people said that racing would never last around Grand Rapids, but I was stubborn enough to keep going." On race day, Chet is at Berlin Raceway before dawn, working all day testing everything to insure that all systems are go for the racing program. In the days of the dirt track, he would work his track every day of the week, not just race day.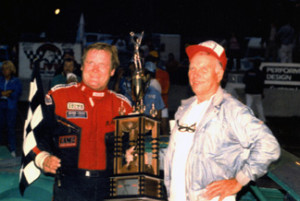 By 1957, the stock cars had evolved into supermodifieds and Chet opened up the ½-mile dirt track that was to become one of the most famous of Michigan tracks. The most famous racers of that era raced for Chet including Dick Carter, Johnny Roberts, Norm Brown, Jim Nelson, and John Logan.
In the early 60's, when dirt track racing was dying out in Michigan, Chet had to make a decision on what to do with his beloved half-mile. A lot of ordinary promoters would have caved in, but Mysliwiec hung tough, built a new paved track, and resumed his successful promoting career.
Stories are told, most of them in truth, of well known ra­cers who hit upon hard times and were assisted financially by Chet so they could race again. We all know it takes a tough per­son to be a promoter, but in this case, a caring heart beats under the rough exterior.
Chet had almost fifty years of promoting auto racing at Berlin Raceway. His career in auto spanned six decades and he had personally been involved in racing and witnessed the evolution of auto racing in Michigan from the days long ago of the mile dirt tracks for big cars, the mighty midgets, jalopy stock cars, super modifieds, and then the super late models.
Chet died on February 19, 1999, after promoting Berlin for 48 years.