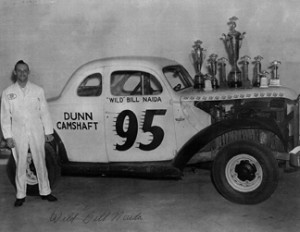 William John "Wild Bill" Naida
William John (Wild Bill) Naida's racing career began in 1948 at the age of 22 at Fort Miami, Maumee, Ohio, in a 1933 Ford. The nickname "Wild Bill" came from his truck driving job, not from his racing. In 1952, while living in Carleton and working as a truck driver 5 days per week, he also raced between four and six nights each week. He was the 1952 Michigan Modified Stock Car Racing Champion Motor City Speedway Champion, Mt. Clemens Old Race Track Park Champion, Dixie Speedway Champion. His 1952 record was impressive.
Competed in 62 race meets, 212 separate events, winning 72 times, 2nd- 42 times, 3rd- 38 times, 4th- 15 times, 5th- 8 times, DNF- 37 times. Total- 212 events! Seven track records.
He raced at Daytona Beach in 1953, qualifying first in the sportsman division and in spite of burning a piston and finishing on seven cylinders, finished third. His qualifying speed on the beach was 105.54 mph. Tracks he competed at: Ft. Miami (Maumee), Ohio, Bryan, Ohio, Monroe, Michigan, Flat Rock, Michigan, Adrian, Michigan, Marion, Ohio, Motor City (Detroit) Michigan, Pontiac, Michigan, Owosso, Michigan, Mt. Clemens, Michigan, Sandusky, Ohio, Jackson, Michigan, Dixie (Birch Run) Michigan, Dayus (Windsor) Ontario, Canada, Raceway Park (Toledo), Ohio. He completed his racing career in 1957.
Bill died on January 12, 2017 at the age of 90. (1926-2017)