Bill Boyd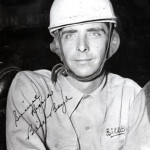 It was in the midst of the great depression and while most folks were scampering to make enough money to eat with, a few brave souls were seeking glory in the seats of those killers called racecars in the early 30's. One of these stouthearted men was Bill Boyd who first got behind the wheel of a Frontenac big car in 1934 and never relinquished the steering wheel for the next 28 years. It was about this time that a new type of racing came on the scene that of midget auto racing. Boyd switched to the midgets and made a living driving them.
In 1938 Boyd moved to Pontiac, MI and established a business-selling racing parts on Lexington Ave. Bill lived in Pontiac until 1956 when he moved to California.
The 1939 season saw Boyd in the Banamon Dearborn Offy with which he took the West Virginia title. 1940 found Bill capturing the "B" championship at Cleveland's Sportsman Park.
On October 12th 1941 Bill Boyd had a shining triumph as he came from well back in the lineup to the front in the big 100-lap championship classic and stayed there to win his biggest race so far. He was crowned the 1941 Ohio Champion.
1942 found Bill Boyd becoming teammates with Johnnie Wohifiel in team cars owned by Wohifiel. This was quite an honor for Wohifiel who was one of the top midget drivers and owners of the time.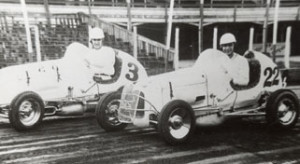 After resumption of racing after the war, Boyd ran second to Tony Bettenhausen in the 1945 National Championship at Toledo's Fort Miami Speedway.
From there Bill Boyd set the pattern for the balance of his racing career. He traveled. Boyd was to hit every major racetrack in the states. He criss crossed the nation from East to West Coast to the far South, running with such stars as Duke Nalon, Emil Andres, Tony Bettenhausen, Bob Sail and with organizations such as IMCA, CSRA, AAA, and finally with USAC.
It was in 1947 at the Municipal Stadium in Cleveland, Ohio that Boyd met with a devastating midget accident. Bill's injuries were 14 breaks in his legs, 3 broken vertebrae, left shoulder broken in 2 places, concussion and internal injuries. In addit­ion, his stomach was punctured, a kidney torn and his liver dam­aged. The crash also knocked out all his teeth out and damaged a nerve in his right eye. Bill received a total of 35 fractures in all.
After recovering, Bill resumed racing midgets into the 50's. About this time the midgets were losing their popularity and Bill took to sprint cars and drifted to the Brickyard in search of a good ride.
But as often happens to even good racers, no real competitive ride came his way and eventually in 1961 Bill Boyd hung up his helmet for good.
Bill died in 1996.