Jack Tod "Plug" Nichols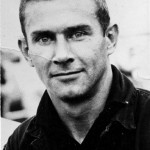 Jack Tod "Plug" Nichols from White Pigeon, started his driving career in 1949 at age 17. He ran the coupes until 1955 when he moved up into the Supermodifieds.
At age 22 his left leg became paralyzed by polio and he was forced to walk with crutches. His race cars were equipped with a hand brake.
He won the season championship at Prairie River in 1952. By 1963 he had over 50 feature wins to his credit including the Spring Championship at New Paris Speedway in 1962. He was the most outstanding feature winner at Toledo in 1964.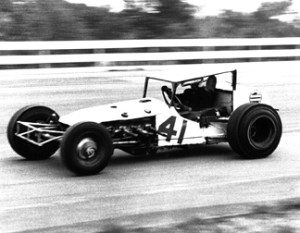 Over the years he raced at numerous tracks including Mottville, Butler, Galesburg, both the Kalamazoo Speedway and Kalamazoo Fairgrounds, Berlin, Grand Rapids Speedrome, Dixie and Jackson in Michigan. Out of state he was a frequent visitor to Oswego, New York; Sandusky and Toledo, in Ohio; New Paris, Elkhart, Goshen Fairgrounds, South Bend and Osceola in Indiana.
Over the years he was famous for driving car numbers 41, 141 and 4. Jack Nichols was fatally injured in a crash during warm-ups in July of 1968 at Illiana Speedway near Gary, Indiana while driving the Pat Beck Sprinter. (1930 - 1968)