Barney Oldfield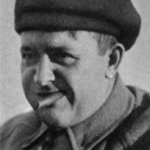 Perhaps the most legendary name in all of auto racing history is Barney Oldfield. His 17-year auto racing career will always remain part legend and part reality. A showman in every respect, the stocky, cigar-chomping hero of folklore, was known for his daring exploits throughout the nation.
Born on June 3, 1878 as Bernd Eli Oldfield in Wauseon, Ohio, Barney first rode bicycles to stardom and then later motorcycles. In 1902 he changed from two wheels to four and came to Detroit to drive a couple of new car built by Henry Ford and Tom Cooper. Oldfield and the red racer, the famous red 999, along with its sister car called the Yellow Arrow would bring national acclaim to Ford. Barney, in one of these cars became the first man to tour an oval track faster than 60 mph and repeated beat all corners in match race after match race.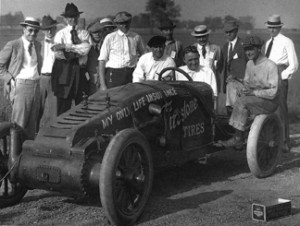 Then in 1903, he was hired away by Alex Winton and toured the country with Winton's famous Bullets. Often his antics and his tendency to barnstorm got him suspensions from AAA, but little mattered for Barney, who had to be auto racing's first outlaw. He later went to bring notoriety to such famous cars as the Peerless Green Dragon, the Blitzen Benz, and near the end of his driving career, Harry Miller's famous Golden Submarine.
He thrived on match races and was well known for often racing against airplanes on oval tracks. Perhaps Barney's only championship came in 1905, when he took a long forgotten AAA title. But when he was on suspension from AAA, Barney would continue his barnstorming of the country hitting the fairgrounds circuits and his name became a household name. When not suspended, he was a top contender and recorded a couple of fifths in the Indianapolis 500 (1914 & 1916).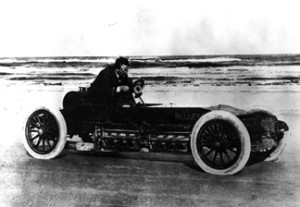 Oldfield probably did more to popularize the automobile in the U.S. than any other man. He also was instrumental in getting Harvey Firestone interested in building racing tires. He is reported to have lived for a while near Bay City. He died on October 6, 1946. (1878 - 1946)