Bill Owen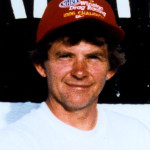 Drag racer, engine machinist and builder, and high performance engine development engineer for General Motors, Bill Owen was born in Flint in 1946. He currently resides in Grand Blanc, Michigan.
Bill's first efforts in drag racing were conducted at Ubly Dragway in 1962 with a G/SA '59 Buick Electra 401 Nailhead. It was a car that his dad had given to him. After high school, Bill obtained a '63 409 Biscayne, which he considers his first legitimate drag car. It ran in A/S, and Bill had had moderate class win success with the car at eastern MI dragstrips throughout 1966.
During this same time, Bill had purchased the '62 327 Impala wagon that had been a successful NHRA car for Ron Kendall of the famed Lansing Chevair Team. Bill took this car to Central Michigan Dragway in late '66, and won a Stock title the first time out. By 1967, he had the desire to move up to a higher level of competition by racing the NHRA events. In the spring of '67, he won a Stock title at Motor City Dragway with the '62 wagon over some of the Detroit "heavy hitters" of the day, including Royal Pontiac, Mancini Racing, Booth and Arons, and Bob Ford. He competed at the NHRA Division 3 Points Meet at Indy in '67, going four rounds in Stock. The next race was the '67 NHRA Springnationals at Bristol, TN. Bill raced to a class runner-up at that event against eventual '67 NHRA Stock World Champ, George Cureton. Bill recalls that he literally raced the car as a profession that year, putting in large amounts of travel and time spent. He made money, but jokes that "it cured him from wanting to be a full-time racer", especially when you try to do it all alone. He sold the ex-Chevair team car at the end of '67.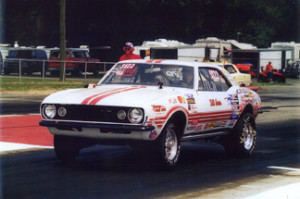 Bill ran a '68 396 Chevelle in Super/Stock from '68-'73. His most memorable effort with this car was at the '72 NHRA U.S. Nationals. Qualifying 13th of 14 cars in SS/HA, he flat out drove everyone on the starting line to make up his performance disadvantage to get to the final. He was defeated by Wayne Gapp in Jack Roush's '68 428 Cobra Jet Mustang in the final. Bill started his own sideline race engine business in 1973, Owen Head Service, performing engine work for a number of high profile customers. Bill brought the Chevelle back out in 1975, switching over to running IHRA Super/Stock, still using a 396. In 1976, he switched the Chevelle's identity once again by putting in a 327 for IHRA Super/Stock racing. Bill set an IHRA National Record that year with that combo. In 1977, Bill ran Don McElroy's '69 Camaro 350 G/SA car at the U.S. Nationals. 1977-81, Bill changed the Chevelle into an NHRA Stocker to run in J/S with the following major wins:
'79 NHRA U.S. Nationals-J/S Class winner, '80 NHRA U.S. Nationals-I/S Class winner, "80 NHRA Sportsnationals-I/S Class winner.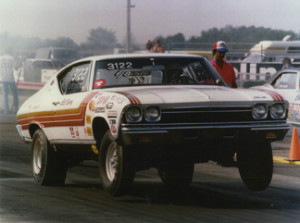 In 1982, Bill bought an existing '67 Camaro G/SA race car from Ed Kelhiefer from Pennsylvania. It had been been built by Ed Quay with a 327 engine by North Carolina's engine legend, Bobby Warren. It was the fastest car in it's class in the nation. Bill went straight to Suffolk, VA to a NHRA Division 2 Points race after picking the car up. He qualified #2 in Stock, and set his National Class record that event. Other highlights with the Camaro, which remains as Bill's race car yet today:
1982 NHRA Nationals at Englishtown, NJ-G/SA Class winner
1982 NHRA U.S. Nationals, INDY--G/SA Class winner
1982 Finished #3 in NHRA Division 3 Stock season Points
1983 NHRA U.S. Nationals, INDY--G/SA Class winner
1984 NHRA U.S. Nationals, INDY--F/SA Class winner
1984 Finished #8 in NHRA Division 3 Stock Points
1986 Point Champion for the Midwest Stock-Super/Stock Association
1987 Finished #10 in NHRA Division 3 Stock Points
1988 Finished #7 in NHRA Division 3 Stock Points
1989-95 found Bill concentrating more on his engine business, and racing somewhat less, but in 1996, he pulled off his best season in racing and with the Camaro, by capturing the NHRA Division 3 Stock Season Point Championship. This feat marked Bill Owen forever as a true championship-caliber drag racer. Bill's other work in the capacity of his General Motors position have seen him involved with Buick V-6 racing engine development, supercharger design, cylinder head development, and even involvement in Bonneville Salt Flat competition as Crew Chief on a supercharged Pontiac Bonneville 3800 V-6 that ran 170 mph-plus. Bill Owen has been a proud member of the Society of Automotive Engineers for over 25 years.