Ray Paquet
Ray Paquet from Holt, MI was born in Lansing, MI. His childhood was spent in DeWitt, where he first began tinkering with all things mechanical, beginning with go-karts and then moving on to cars.
He began drag racing in 1962 at Onondaga Dragway. He also raced at Central Michigan Dragway at Stanton. His first legit race car was a 1953 Chevy that ran in the N/Stock Automatic class. His next car was a 1951 Chevy with a stick shift.
In 1963 Ray switched to the brand he would later become synonymous with: Ford. He had three different 1957 models, all with the 312 y-block engine. He competed with one in the open class, and yet another in 1964 which he raced in the C/Modified Production class. He unfortunately wrecked that car late in the year.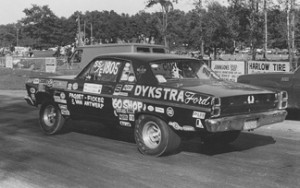 In 1965, he raced a 1963 Falcon Sprint with a modified 289 engine in the C/Gas class, and at about the same time, Ray also began racing a 1963 Ford Galaxie 427 in the Stock classes. He continued with these cars through 1966, and then late in that year Ray bought a red and very rare 1966 Fairlane "R-code" hardtop to compete with in the Stock classes. It was one of only 57 built, and Ray still has the car to this day. He raced this car for two years, and then wisely realizing its future value, put the car away for posterity. He then obtained a 1967 427 Fairlane to serve as the new race car, which he ran in A/Stock, B/Stock, and C/Stock through the 1971 season.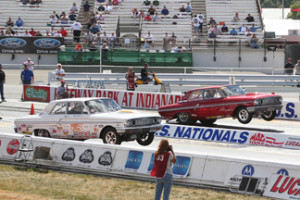 In 1972, Ray moved up to the Super/Stock category, converting the '67 Fairlane to meet the S/S rules. Among the major accomplishments with this car, includes many class wins at NHRA National events throughout the U.S., countless National records, and the Super Stock Eliminator title at the 1981 NHRA U.S. Nationals. Ray had sold the '67 to Vic and Lois Krol in 1978, but had been retained as the driver. While still racing his former Fairlane for the Krols, Ray secured one of the legendary 1964 Fairlane Thunderbolts in 1978, of which only 100 were made. These historic factory race cars had been built with the highest horsepower-rated 427 FE engines, and ultra-light body parts. Ray sold the car to an Oklahoma racer in 1980, and then re-acquired the T-Bolt in 1985, and it has been his main Super Stock race car since that time. Varsity Ford in Ann Arbor is Ray's sponsor.
Ray Paquet's major drag racing highlights are as follows:
1973 Popular Hot Rodding Magazine Nationals Super Stock Eliminator, Martin, MI
1974 Popular Hot Rodding Magazine Nationals Warm-up race, Super Stock Eliminator, Martin, MI
1974 NHRA Divisional points race Super Stock winner @ Tri-City Dragway, Saginaw, MI
1974 NHRA Springnationals @ Columbus, OH -SS/E Class winner over Chrysler's Herb McCandless
1974 NHRA Summernationals @ Englishtown, NJ SS/E Class winner over Herb McCandless!!
1975 Popular Hot Rodding Magazine Nationals Super Stock Runner-up to Chrysler's Judy Lilly
1977/78 IHRA Class championships and national records
1979 #1 Qualifier in Super Stock, NHRA U.S. Nationals
1981 SS/F Class winner and Super Stock Eliminator Champion, NHRA U.S. Nationals at IRP
1988 Popular Hot Rodding Magazine Nationals Super Stock Eliminator, Martin, MI
1988 Won a special match race with the T-Bolt against the legendary Arnie "The Farmer" Beswick
Over 50 class wins at National events In Stock and Super Stock
2009 Most recent important win: SS/B class winner, NHRA U.S. Nationals