Benny Parsons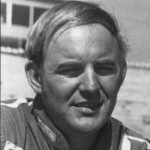 Benny Parsons was born in Wilkes County, North Carolina, 1941. His first race car was a 1954 Ford, which he drove in competition at the Mt. Clemens Speedway in 1963.
Benny competed at several tracks in Southern Michigan, Northern Ohio, and Indiana area. Benny was very successful with the team's cars, with Wayne Bennett at Auto City, Dixie, Flat Rock, Mt. Clemens, and Toledo.
He started his new car-racing career in 1965 with ARCA and won Rookie of the year honors that year. In 1968-69, he ran a few ARCA new car races and several of the local late model shows.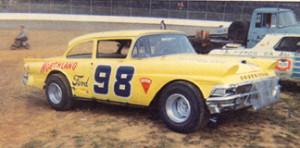 In 1968-69, he ran full time with the ARCA new car circuit and won the Point championship both years, winning the ARCA race at Daytona Beach in 1969. In 1970 he moved back to Ellerbe, North Carolina, joined NASCAR, and started racing full time on the Grand National Circuit. He won the Point championship in 1973. In 1975 he won the Daytona 500; He finished in the top five in the point standings each year until the mid 80's.
Benny clinched the 1973 Winston Cup title at Rockingham in this very battered car.
He then worked as a announcer and color man with ABC, CBS, ESPN, SCTN, and WTBS TV, and MRM radio and several big racing shows. Everyone on this board knows of Benny's accomplishments. Need I say more?
Benny Parsons died of cancer on January 16, 2007. (1941 - 2007)