Ueal Eugene "Pat" Patrick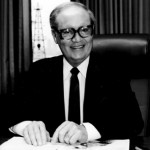 Ueal Eugene (Pat) Patrick was born on March 10, 1929. He started his Indy Car racing career as a sponsor of the team fielded by fellow Jackson oilman Walt Michner in 1967. He became a co-owner of the team in 1970 and established Patrick Racing. He is the President, CEO, Director, Patrick Petroleum in Jackson, Michigan.
Patrick also became one of the few car owners to successfully build and field machines of his teams own design. From 1975 thru 1983, the cars, appropriately named Wildcats, were highly competitive.
Since 1970 the Patrick Team has amassed one of the most enviable records in the sport, including: 3 National Championships, 3 Wins and 3 Seconds at Indy.
Over it's 20 year history; the Patrick Team has fielded cars for some 24 different drivers. Even a partial listing reads like a who's-who of Championship Auto Racing, including: Two-time Indy 500 winner and National Champ - Gordon Johncock, and 1989 winner National Champ - Emerson Fittipaldi.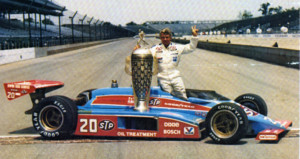 In 1978, along with fellow race team owner and automotive innovator Roger Penske, Patrick founded Championship Auto Racing Teams which has presented national championship racing with its dramatic growth in visibility and interest in it's first 10 years.
Patrick also conceived a need for a "stepping stone" series to train drivers, owners, mechanics, and sponsors for future Indy Car programs. To that end, in 1986 he founded the American Racing Series, which is in its fifth season in 1990 with "spec" cars bearing the Wildcat name.
Racing Involvement: 1967 - Sponsor Michner-Patrick Indy Car 1970 - Present - Founder and Owner, Patrick Racing 1979 - Present - Director C.A.R.T. Co-Founder and 1st. Chairman C.A.R.T. 1985 - Present - Founder, Co-Owner, and President of The American Auto Racing Series Total Figures: Starts-491 Wins-33 Top 5-154 Top 10-86 Total Purses: $10,373,270. "Pat" passed away January 5, 2021.