Tony Brabbs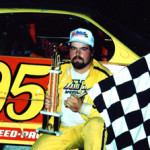 Tony Brabbs began his racing career in 1977 in the Street Stocks division at his two home tracks of Auto City Speedway in Clio, Michigan and Dixie Motor Speedway in Birch Run, Michigan. After several years in the Street Stocks, he moved up to the Pro Stocks in 1984 and two years later in 1986, picked up his first career Feature Win which ironically came on the last night ever for the dirt track at Auto City! From their, the wins and championships came in bunches.
In 1988, Brabbs' first of an impressive 19 Track Championships came at the Tri-City Motor Speedway in Auburn, Michigan. This was his first of three consecutive titles on the adjoining ¼ mile of the "Trick-Track of the World" He also collected his first of eight (8) track championships at Auto City that same season. He repeated the feat of two titles in the same season at the same two tracks in both 1989 and 1990. The titles kept coming as in addition to another title at Auto City in 1991 he added his first of seven career titles at Dixie that same season. As the Pro Stocks division evolved into the Limited Late Models, Late Models and eventually the Pro Late Models division, the Championships continued for Brabbs. The 1989 title at Auto City was his first of four (4) consecutive. (1989, 1990, 1991, and 1992) while at Dixie, his 1991 title began another string of four (4) straight championships as he duplicated that feat in 1992, 1993, and 1994.
On July 29, 1995, Brabbs was involved in one of the nastiest wrecks ever seen at Auto City. His left front wheel was hit by a car on the inside of him as he was attempting to pass at the highest point of acceleration down the backstretch. It sent Brabbs through the guardrail, over pit road, through a catch fence, and into the woods. He sustained two (2) actual breaks in his back, broken fingers, a collapsed lung and diaphragm. He was in a body cast for almost six months. So how strong is his will? On opening night in April 1996, Brabbs was the Feature winner!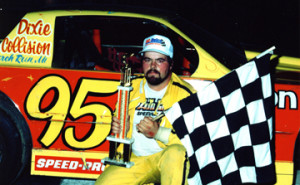 In 1997, Brabbs won his first track championship in a division without fenders! Brabbs scored the title in the open wheeled Modifieds division at Dixie. 1998 would be a career year for Brabbs as he won three overall Track Championships at two tracks in two different divisions! In addition to winning the 1998 Late Models Track Championship at Auto City, he also picked up two (2) Track Titles at Dixie that same season as he won the Late Models title and repeated as Modifieds champion! Brabbs would go on to win two more track titles in the Late Models division in 2000 and 2004 at Auto City. He added one more title at Auto City in 2006 in the Modifieds division. Tony also won the 2010 Modified track championship at Auto City.
Perhaps no other driver in Michigan Short Track Racing history has accumulated as many Track Championships (20) as Tony Brabbs has earned!
To date, he has collected over 200 career Feature Wins, with win #200 coming at Auto City in 2008 after a dramatic last lap pass of Michigan Motorsports Hall of Fame driver, Mike Eddy, who was making a rare appearance in a Modified. Brabbs has won at other facilities in addition to Auto City, Dixie, and Tri-City. High on his list of memorable Feature wins have come at Owosso Speedway during the Owosso Fall Nationals, Standish Speedway during a Michigan Speedway Promoters Association (MSPA) event and a special invitational at Owendale Speedway in 1989. He still holds the track record at Dixie for Late Models and Modifieds on the tracks inner 1/3 mile semi-banked paved oval. Those records have stood since 1998 and at various points in his career; he's held four (4) other track records at either Auto City or Tri-City.
Over the years, Brabbs has also participated in number of prestigious events all over the state of Michigan such as the Dealer's Choice and the Super Shoe Nationals. Although the majority of his success has come on the pavement, he proved early on that he could adapt to pavement or dirt throughout his career. His ability to master different tracks and surfaces makes him quite a novelty. It's one thing to dominate at one track, but to do it wherever you go, is quite a tribute to your talent. He has driven, and won, on almost every local short track in the Lower Peninsula of Michigan. Even though he lives practically right in between Auto City and Dixie, Brabbs has been successful wherever he has traveled.
Brabbs is considered one the very toughest drivers to beat, anywhere, anytime, and in any division. His racing accomplishments throughout his career are a dream for any driver anywhere! Most Hall of Famers would give their right arm to be able to boast such statistics! Brabbs is the epitome of what a local race car driver stands for. He has done all of this on his own, well almost, he has had the help and support of his 32-year fiancée, Michelle Smith throughout his career. He has the respect and admiration of every driver in any pit area he enters. He has built his own business and career from the knowledge of building racing engines, which is all self-taught. No college, or classes, just experience from doing it. He admits to building well over 1,000 racing engines for drivers in the area in the last 20 years. He has no off season as far as building power plants go, and getting your name on a waiting list may be your only option if you're wanting Brabbs power under your hood.
The Clio, Michigan veteran continues to race today and for the 2010 racing season, his 33rd year of racing, you'll find the Clio, Michigan veteran behind the wheel of a Modified at Dixie Motor Speedway on Friday nights as he goes for an unprecedented 20th career Track Championship. You'll also find him at Auto City Speedway on Saturday nights during the year as well.