Bob Patterson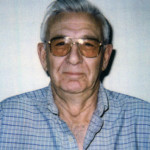 Bob Patterson of St. Johns has been involved with auto racing since 1961. He has owned race cars for over 35 years. His first car was a super modified that raced at Berlin Raceway in Marne. Jack Smith drove Bob's white and red number 8-ball. Bob's super modifieds were front runners at tracks like Berlin, Dixie, Owosso, Hartford, Jackson, Delaware and Flamboro in Canada, Sandusky, OH and Oswego, NY.
The list of chauffeurs that drove Bob's cars is a "Who's Who" in Michigan oval track fame of the 1960's. Jack Smith, Jimmy Nelson, Norm Rust, Nollie Johncock, Ralph Baker, Art Bennett, Mort Anderson, Jack Lindhout, Wayne Root and Bob Senneker all have shared seat time in Bob Patterson's number 8-ball super modifieds.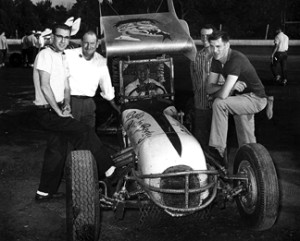 Bob along with Jimmy Nelson ventured to Iowa to run the third annual Knoxville Nationals in 1964. Jimmy set fifth fast time and then led much of the early going of the "Knoxville Nationals" before getting passed by eventual winner Kenny Weld on lap 18. Kenny's older brother Greg got around Nelson on lap 23 for second, but Jimmy was able to hold off Tom Corbin and finish third. It is the best finish a Michigan car and driver has ever had in the prestigious race.
Bob sold the super modifieds about 1970 and then helped his son Kris get started in racing. After successful motorcycle and snowmobile racing careers Kris, with Bob's help, started running the Sportsman class at the Ionia Fairgrounds. They were almost unbeatable. Kris then moved up to the Late Models and went on to become a multi-time MSPA champion. They won the 1998 Eldora Speedway late model championship in Ohio.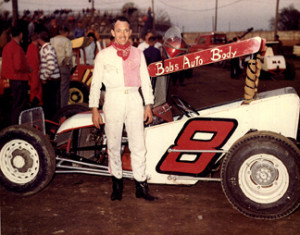 Between 8-ball super modified days, and Kris' familiar #0 sportsman and late models, Bob Patterson's cars have won about 300 feature races.
Bob still resides in St Johns with his wife Rosa Lee and helped Kris at almost every race that the #0 entered. Bob's grandson Kris, Jr. now carries on the tradition.