Kris Patterson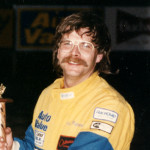 Kris Patterson of St. Johns is one of Michigan's most prolific winners. He reached the 500-win milestone at Barren County Speedway in Kentucky during a Northern All Star Late Model event on May 14, 1999.
At age five Kris began racing Go-Karts. He continued racing Go-Karts for three years. He raced the soapbox derby for three years, and won the championship in 1968.
He then began racing motorcycles at age 12, and ran for four years winning the MotoCross State Championship in 1972.
He started racing snowmobiles in 1971 and raced them until 1980, winning the State Championship eight times.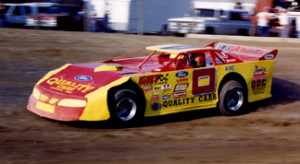 Kris built and raced Drag Sleds (snowmobiles) and won the State Championship in those in 1979. He set a 440-650 Open Class record of 132 m.p.h. in 800 feet.
He switched to oval track racing in 1979. His first race was a Sprint Car race at Limaland Speedway in Ohio. He also raced an asphalt supermodified in 1979 and 1980, before switching to the Sportsman division where he won six championships.
In 1983 he moved up to Late Models and was the "Rookie of the Year". Since then he has set and broken more records than any other Michigan driver (including the renowned Ed Howe and Bob Senneker). He went on to become a seven-time Michigan Speedway Promoters Association (MSPA) champion.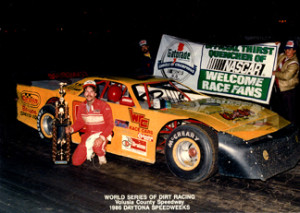 He is a two-time "Barney Oldfield Classic" winner at Oakshade Speedway in Ohio. He has won the "Johnny Appleseed" twice at Eldora Speedway. Ohio. He is a two-time champion in the American Late Model Series in Ohio.
He has achieved 24 track championships in Michigan and Ohio. He had eight consecutive United Midwest Promoters (UMP) state championships in Michigan from 1989 thru 1997 as well as six consecutive UMP state championships in Ohio (1992 - 1997).
Kris has competed nine times in the "World 100" with his best finishes of 7th, 8th and 16th. He has also competed in three of the $100,000-to-win "The Dream" at Eldora with best finishes 7th and 11th.
Kris has been featured regularly on covers of racing magazines and newspapers. He averaged about 50 feature races a year.
He ran a Ford since 1991 until his retirement. He rans Mustang bodied Late Model. In 2000 he took his fourth straight American Late Model Series championship as well as winning the Oakshade track championship.
Kris's son Kris Jr. now races the familiar yellow #0 at Michigan dirt tracks.