Leo Pego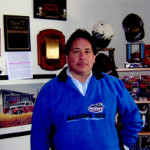 For over two decades there has been no place in Michigan where Leo Pego has not made his mark, whether it is by the paint brush and his "Chief" insignia, or his unforgettable voice. Growing up a mere 4 miles from Mt. Pleasant Speedway this 2005 MARFC "Tom Carnegie Award" recipient became enthralled with the distant rumble that would fill the evening air on summer weekends at an early age.
Somehow, it seems as though some are destined to have a great passion for Motorsports. Leo's father Maurice "Smiley" Pego competed in a 1936 Plymouth back in the late 50's and understood Leo's love for the sport. After recovering from an eye surgery in 1972, Leo's only wish was to attend a stock car race. The 8-year-old was hooked as soon as the first car took a lap around the fast Berlin Speedway, and from that moment on there was no prying him away from the track or from his neighbor Troy Courtney's garage.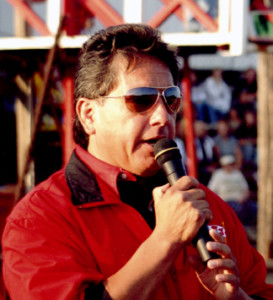 Courtney was a local racer and a sign painter who easily fit the role of hero and mentor for Leo. Combining a love for art that he inherited from his mother Jean and a passion for Motorsports, Leo picked up a paintbrush at the age of 12. He practiced on everything he could get his hands on, including a refrigerator that just happened to get pinstriped while his mom was at work. Even though some of their appliances were no longer conventional, Jean Pego always encouraged her son and simply laughed at what she deemed to be "The best looking fridge on the reservation".
With his parents support and Courtney's assistance, Leo began lettering cars in 1977. By the Mid-80's Leo was not only lettering a great deal of cars, but had also begun to do sign work for Merritt Speedways new owners Ed & Carmen VanDuinen.
In the spring of 1986 Merritt Speedways announcer made it known that he was planning retiring, Ed mentioned to Leo taking over on the Mic. Leo originally jumped at the idea, but soon butterflies set in and as VanDuinen put it, "Every time the little brat would see my green truck that summer he would hide". Leo dodged the tower for the '86 season, but a few weeks into the '87 season Ed drove up to the pit side fence, grabbed Leo around the neck and asked point blank if he was going to announce or not. Leo fearfully nodded his head and before he knew it he had the mic. in his hand.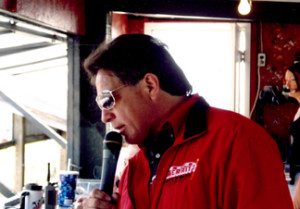 Leo announced qualifying for the first half of 1987 and worked as the assistant starter for the later half. When the 1988 season rolled around Leo took the position of full-time announcer both Merritt and Mt. Pleasant Speedways.

Nearly two decades later Leo remains the well respected voice of Merritt & Mt. Pleasant Speedways. Over the past 19 years has also announced special events 13 speedways throughout the state, many fans also recall hearing him announce 13 "Dealers Choice" events alongside Mick Schuler, Gary Lindahl, and Mark Cowan.
Leo's greatest memory in the sport was announcing the "Race of Champions" at Mt. Pleasant Speedway in 1996 & 1997. The event was hosted by the Saginaw Chippewa Indian Tribe and featured NASCAR legends and superstars. For Leo, being able to experience the gala event and interview some of the most talented drivers in the nation was "Simply awesome". In May of 2006 Leo made another incredible memory. As the recipient of the very prestigious MARFC (Michigan Auto Racing Fan Club) Tom Carnegie Award for excellence in announcing, Leo had the honor of announcing Indianapolis 500 qualifying alongside the unforgettable and legendary voice of Indy.
In addition to the Tom Carnegie award, Leo has also been honored with Michigan Racing Scenes Peoples Choice "Announcer of the Year" award for the past 5 out of 6 years.
Leo said he feels as though he is "The luckiest guy in the world". For over 25 years he has been able to make his passion in life his career and his hobby.