Cornelius "Neil" Penny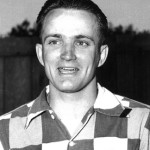 Cornelius 'Neil' Penny's interest in cars began during his childhood. He was a driver, mechanic and car builder. He used his prize money to buy his business, Woodward's Garage. He began stock car racing in 1947 at the Galesburg Speedway winning during that first year the 24 car, 100 lap trophy race. During the next five years he had many top five race finishes. He raced at Galesburg Speedway, Jackson Fairgrounds, Flat Rock Speedway, and Mottville as well as South Bend Motor Speedway and South Anthony Speedway in Indiana.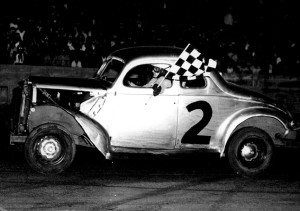 In 1953 Neil Penny won the Season Championship 100 lap trophy race at Galesburg. He also won the midseason State Championship races in September. In August of 1954 Neil was the top driver at Jackson and second in points at Galesburg. He was usually sponsored by Bob Hass Dairy. He won numerous features at Galesburg and South Bend. He exited racing on a winning note as he won a big event on September 19th in 1957 at Flat Rock.
He retired from racing that year, running his last race at Galesburg Speedway. Neil was born on November 10, 1924 in Kalamazoo and resides in Galesburg. He and his late wife Virginia had four children Barb (Vandyke), Ron, Jacalyn (Nutter), and Marylynn (Higbee). He died on January 21, 2012. (1924 - 2012)