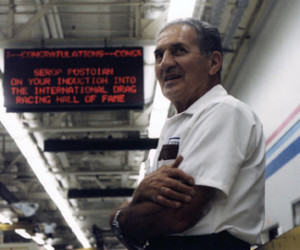 Serop "Setto" Postoian
Serop "Setto" Postoian was one drag racing's first Eastern heroes, and an early idol of a Florida teenager, who would later go on to fame himself. None other than Don Garlits.
Before being drafted into World War II, Setto worked in the engine-rebuilding division of Ford Motor Company in Detroit. After serving for three-and-a-half years overseas, the young veteran opened a gas station in Farmington. He loved cars. He learned frame and front-end repairs from a former instructor of the Bear Manufacturing company school. That relationship led to a pit-crew stint at the Indianapolis 500, and his first ride in a real hot rod, the "full-house" '32 Ford roadster of Jack McGrath, a racing mechanic from Los Angeles. Accepting an invitation to visit McGrath's hot rod shop. Setto stayed six weeks, absorbing everything he saw. While on the West Coast he met Joe Pisano and Ed Iskenderian who both had dragsters. That was in 1950.
Returning to Michigan, Setto opened Farmington Speed Shop and built a flathead roadster for the drags. He then started drag racing shortly after that. Next came an unblown dragster, powered by a DeSoto Hemi. It was the first overhead engine he had ever had.
Setto won the Riverside Nationals at Riverside, California four years in-a-row. It was one of the only major nationally sanctioned events at that time. Setto won the event each year from 1953 thru 1956.
After switching to a 392 cubic inch Chrysler, Setto won back-to-back Top Fuel titles at the prestigious World Series of Drag Racing in 1957 and 1958. Turning pro, Postoian received top appearance money to race as far away as Florida, California and New England.
In 1960, this rising star was seriously injured at Detroit Dragway, and never raced again. Setto had about 250 eliminator wins before he retired. Setto died away in 1995. (1922 - 1995)