Hod Preston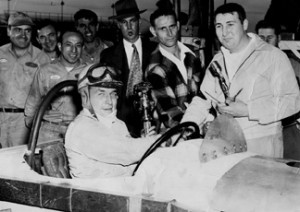 Starting his career back in 1936, Hod Preston started with the jalopies and he progressed through the ranks of the roadsters, stock cars, midgets, and big cars. The roadster that he owned was called the Brown Dog. He also drove for several other car owners.
Preston ran with the Hurricane Hot Rod Club out of Chicago, which was headed up by Andy Granatelli. Through the Hurricane group he raced in Cincinnati, OH; Springfield, IL; St. Louis, MO; Milwaukee, WI; Crown Point, IN; Soldiers Field in Chicago. In addition to the Hurricane group, Hod did some outlaw racing running at Dayton, Fremont & Vicksburg, OH; New Castle and Winchester, IN; Tampa and Orlando, FL.
In Michigan he ran at Caro Fairgrounds, lonia Fairgrounds and the Michigan State Fairgrounds in Detroit. His favorite Michigan tracks he ran at were; Saginaw Fairgrounds, Owosso Speedway, and Motor City Speedway in Detroit. Others he ran at were; Whiskey Ridge, Windsor, Ontario, Toledo, Maple Speedway in Adrian, Jackson Motor Speedway, and Partington's Pastures.
Preston's stated ambition was to enjoy racing and win as many as he could and win he did as he captured several championships in the Michigan and Ontario area. Although he ran both dirt and pavement, Hod preferred the dirt tracks because he felt that they were more competitive.
The first time that the Michigan Modified Stock Car Racing Association ran at Motor City Speedway in Detroit, Preston set fast time and captured every race he competed in that night including the feature.
Preston was later to be elected Business Manager of the MMSCRA and worked in his public relations role to bring harmony to the promoters and racers. He was also involved in setting up the live TV coverage of the Motor City Speedway races.
Along with other people, Hod was instrumental in giving birth to several racetracks including Crystal Raceway, Mt Clemens Race Track, Flat Rock Speedway, Raceway Park in Toledo, and worked with John Marcum with the Midwest Auto Racing Club.
After retirement as an active racer, Hod began a business producing fiberglass bodies for stock cars. Retired now and liv­ing in Florida, Hod Preston still keeps abreast of current racing activities in Michigan. Hod died at age 78 in 1995. (1917 - 1995)