Al Provoast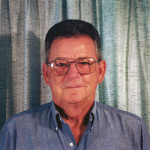 Hailing from the Iosca County town of Whittemore, Al Provoast was born June 27, 1932. He became involved in NHRA drag racing locally, at tracks like the now-departed Tri-City Dragway in the Saginaw area. His early racecars were a series of Chevrolets, including a 1955, a 1959, and a 1960. Al's first venture into the NHRA big-time was competing at the 1968 U.S. Nationals at Indianapolis Raceway Park. He won his individual Stock Class title at that event the first time out! In the years since, Al has competed in nearly every U.S. Nationals, having lost his class title there only six times in over thirty years! In 1971, Al switched brands of race cars to Oldsmobiles, originally assisted by Labadie Olds of Bay City, and has raced them ever since. Over the seasons, Al has compiled a staggering list of accomplishments.
NHRA LeGrandnational Stock Eliminator at Sanair, St-Pie, Quebec, 1981
Two Stock Eliminator titles at past NHRA Sports nationals.
Three-time Stock Eliminator winner of the Popular Hot Rodding Magazine Nationals formerly held for many years at U.S. 131 Dragway, Martin in Michigan
Al also was runner-up at that event, twice.
He has also won several NHRA National Open events over the years, as well as several NHRA Divisional World/Winston Series point meet Stock Eliminator titles.
He has been the NHRA Division 3 overall Stock point champion twice, 1987 and 1992. (Division 3 includes MI, OH, IL, IN, KY, WI & Western Ontario)
Al won the prestigious NHRA/TRW All-Stars Championship title in 1988.
In addition to his NHRA titles, Al has also won an IHRA National event, and was runner-up at another.
The number of National Class e.t. & Mph records that Al has set over the years literally number in the hundreds. Much too long to list.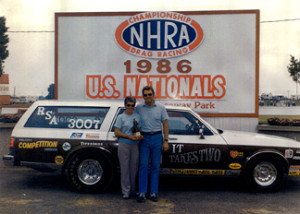 Bev and Al Provoast after a win in the 1986 US Nationals[/caption] Over the many seasons of racing, Al has had a "fun little side hobby" involving his racing. He always strives at every event, whether it is a National or a Divisional, to literally be the first car down the track, for the very first time trial of the event. Events that sometimes take six days to complete, like the prestigious U.S. Nationals. So, before John Force, Kenny Bernstein, Doug Kalitta, Warren Johnson, etc., etc. there goes Al, first down the track. NHRA announcer Bob Frey once did a feature story on Al & the "hobby", as well as Al's long association with the Air-Lift Corp. on NHRA's internationally broadcast "NHRA Today" TV program.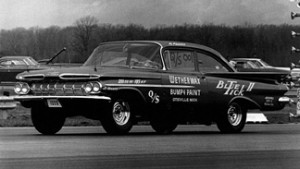 In the years since first running Oldsmobile cars and engines, Al has become to be regarded by most as the Dean of the Oldsmobile stock engine. There are a number of businesses that have advertised themselves over the years as "Olds experts", and then there is Al Provoast, "Father Time". He is a master innovator, and tireless in his quest for power that defies the low-compression stock specs of his engines. His current car, The Air-Lift "Heavy Hauler" is an example of Provoast power. A 1979 Buick Estate Wagon running the legal 9.18 compression 403 Olds in the N/Stock Automatic (N/SA) class, at a whopping 4,300 pounds, capable of 12.0 seconds or quicker 1/4 mile times (national index for N/SA is only 13.30!!), and wheelstanding the front tires 20-plus feet out from the starting line! In closing, any biography on Al Provoast would not be complete without acknowledging his devoted lifelong partner in racing and in marriage, Bev. The Provoasts still spend every race season crisscrossing the entire U.S. beginning in February and usually ending in October, being friends and making friends with fellow racers and fan alike. Sadly, Al passed away in spring 2020, followed by his beloved wife Bevin October 2020.