Russell M. Densmore *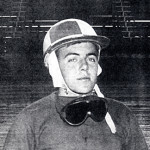 Russell M. Densmore was born on July 17, 1932. Russ was 15 years old when neighbor Don Losey asked him to go to a race with him and that was all it took, he loved racing. He was 17 years old when he raced his first stock car race at Jackson Motor Speedway. He also drove modifieds. One had a 1925 Model T body with a Thunderbird engine. The other car was a 1938 Plymouth coupe with a 300 Chrysler engine.
He also raced at Lansing Speedway, Capital City Speedway, Owosso Speedway and the Jackson Fairgrounds. He drove several stock cars for different car owners. His first car was a 1934 Ford. His car owners included his brothers Ed & Dale, Woody Calhoun, Bob Wymer, Dick Slade, Elmer Baxter, Clare Weber & Don Losey.
Some of the different sponsors he had over the years include Elmer's High Speed Gas Station, Hilltop Tavern in Leslie, Taylor General Store in Reves Junction. Bill & Pat White Gas Station in Jackson.
By 1955, he and his wife Patricia had three daughters (Dianne, June and Joan) and decided to give up stock car acing. In 1956 and 1957 he started racing Go-Karts. He raced Karts at Clinton, Lansing, and Jackson. He helped Herm Testor and some other fellows build the Kart track in Springport.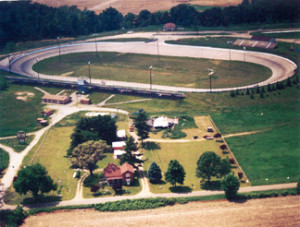 From 1958 to 1977 he was on the Springport Fire Department. He joined the Fire and Rescue at Michigan International Speedway when it opened in 1968. He was the MIS Fire Chief in 1972 & 1973. He was also the president of the Southern Michigan Fireman Association for several years. There were 33 fire departments in the organization. In the 1980's Russ traveled with a group of men from MIS Fire & Rescue to the Meadowland, NJ, Atlanta, GA, Daytona. FL, Cleveland, OH and Milwaukee, WI to help at the races.
Densmore had his own fire equipment and worked Spartan Speedway Friday nights, and traveled for several years to almost all of the short tracks in Michigan for the special Wednesday night MSPA races. He also worked at South Bend Speedway, IN on Saturday nights.
Russ owned the Springport Thermogas business for 29 years. When he sold the business in 1988 he decided he was too young to retire, so he bought a 70 acre farm and built a 3/8 mile, high banked speedway, known as Michigan Ideal Speedway. Russ owned and operated the track for 10 years. He also had National Tractor Pull events in the infield of the track.
He has a life lease on two acres and the house which is in front of the track now known as Springport Motor Speedway.
Russ passed away on October 29, 2020