"Stormin" Tim Norman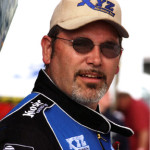 "Stormin'" Tim Norman from Warsaw, Indiana, born on August 16th, 1959, is a veteran of sprint car competition in the Great Lakes region. Norman along with wife Cindy and son Alex always had a large choice of race tracks but during a majority of his career competed in Michigan and the surrounding Great Lakes area with the Sprints on Dirt [SOD].
After starting in the 1983 season racing locally Norman set off on the Sprints on Dirt tour in 1984 and won rookie of the year honors. Since those early years Norman went on to collect over 40 career feature victories and three SOD championships. In addition to driving Norman is a well respected fabricator of bolt on parts for sprint cars and other racing applications that are distributed worldwide.
Norman's SOD first championship came in 1985 backing up his rookie of the year effort the previous season. The second championship with SOD came 20 years later in 2005 when Norman collected the championship. The second championship made Norman the only driver to win championships with SOD during the eras that mandated 410 and 360 cubic inch engines There was a much shorter wait for his third SOD championship in 2007.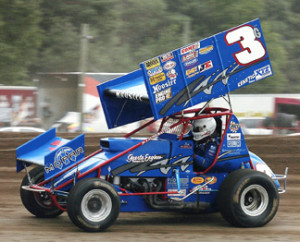 Currently Norman is fifth on the all time SOD feature win list with 27 feature victories. Career highlights include a victory the King of Michigan SOD Summer Nationals event at Hartford Speedway, the 100th SOD event ever held at the Crystal Motor Speedway, and becoming the only sprint car driver to win a sprint car feature in three different decades at Crystal in 2002. Other tracks Norman has found victory lane at in SOD competition include Butler Motor Speedway, Bryan Motor Speedway, Hartford Speedway, I-96 Speedway, Kalamazoo County Fairgrounds, Owendale Speedway, and Winston Motor Speedway.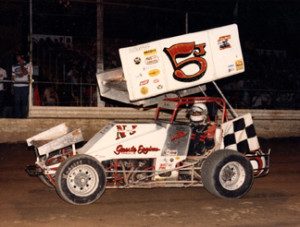 In addition to his success in the SOD series Norman has victories numerous in non-sanctioned sprint car events. Norman won the sprint car feature at the Dealers Choice four different times with three wins at Crystal and one at Hartford Speedway. Norman also has feature wins in open competition at I-96 Speedway, and Hartford Speedway.
In 1993 Norman went on the road with the All Star Circuit of Champions finishing 10th in the point standings.
Much of Norman's early success came as owner and driver of his own car. After carrying the dual roll for all but two seasons of his career Norman forged a partnership with longtime friend Joe Gaerte in 1998. The duo found success almost immediately with victories in the 410 and 360 sprint car classes and two of Norman's three SOD championships.
In addition to driving Norman, along with former SOD competitor Steve Kline own XYZ Machining. Norman and Kline use their years of racing knowledge to produce CNC manufactured Torsion Stops, Torsion Arms, Pitman Arms, and other bolt on components. XYZ's parts are used by some of the leading sprint car manufactures as original equipment.