Jim Terrill
Midland, Michigan's Jim Terrill has never been a stranger to victory lane. The former Super Stock standout who now calls Houghton Lake, Michigan home was very rarely outside the limelight throughout the 1960's and 70's. This 2nd generation driver was introduced to the sport at a young age by his father Buck Terrill who competed in the #30 coupe back in the 50's.
Even though it is his accomplishments as an oval track driver that Jim is most recognized for; his career actually began on the straight-and-narrow in 1960 running a black '56 Chevy named the "Pepper Shaker" in the Class H division. In very quick order Terrill became accomplished on the strip qualifying for the 1961 Nationals before engine failure made competing in the event an impossibility. When the 1962 season rolled around Terrill chose to focus entirely on oval track competition which he had dabbled in for the previous two-seasons on a part-time basis.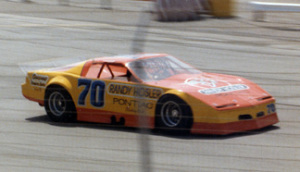 From there Jim experienced an amazing career amassing well over a hundred victories on both asphalt and dirt and achieved such feats as:
Mt. Pleasant Speedway Hobby Stock points Champion (1970)
Two-Time Mt. Pleasant Speedway Super Stock points Champion (1974 & 1975)
Two-Time Spartan Speedway Super Stock points Champion (1978 & 1979)
Michigan Speedway Promoters Association (MSPA) points Champion (1980)
Tri-City Motor Speedway Super Stock points Champion (1984)
Auto City Speedway Super Stock points Champion (1984)
Although Terrill has captured several premier events, the 1979 season is one that will always stand out for the mild-mannered man who has been honored as sportsman of the year on three occasions; that year Jim won 24 events including 7 in a row at Spartan Speedway, he was victorious in the Mid-Season and Season championships at the speedway, he also captured the Howard E. Williams Memorial race at Flatrock, placed 2nd in the Boom-Boom 100 and ended the season as the 1979 Spartan Speedway Champion all behind the wheel of the Turner Fruit Farm #52. Over his 26-year racing career Jim had the pleasure of competing at 17 Michigan Speedways and ventured to Toledo, Ohio and New Smyrna Beach, FL. And racing for such car owners as Dan Almond (early 60's), Delta Ford, Lee Elmore (early 70's), Turner Fruit Farm #52 (late 70's), Giles Green machine #11 (1982-1983), Stroughs (1984), and the Hossler #70 (1986).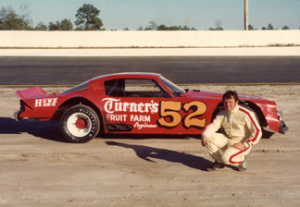 After the 1986 season Jim retired from competition in order for him and his bride since 1963 Julene to focus on their children Scott and Debbie. By that time Scott was already experiencing great success in his own career as a Late Model driver which continued through the 1992 season. Now the retired couple enjoys spending time with their children, and three grand-children; 20-year-old Andrew, 18-year-old Jessica and 4-year-old Ross. And weekends still find them near the rumble of race engines as Andrew competes for Team Arctic Cat in the winters and in a UMP Modified in the summer months.