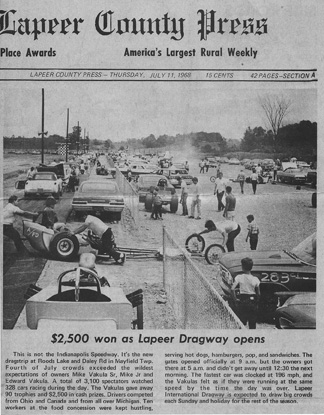 The Vakula Family
It is a great accomplishment to build a dragway and an even greater accomplishment to be one of the few still running. Such is the case for the Lapeer Dragway in Lapeer, Michigan. Built in 1968 by Ed and Mike Vakula, it's ownership and management has withstood the test of time, as it is one of the 6 or so dragways still playing to great crowds and great drivers in Michigan today. The track has been continually and successfully operating since it's 1968 opening, which says much about vision and meeting the needs of the drivers and fans that flock to the track.
Over the years, some of the drag racing greats and legends have run down the track at Lapeer. A few included Bernella's "Funny Honey" Funny Car driven by MMSHOF Inductee Della Woods, Art Arfons with his legendary Green Monster jet dragster (who set a new record with his jet in 1972 at 288 mph), Neil Pappy Ellis, Ed Hollis, E. J. Potter (The Michigan Mad Man), MMSHOF Inductee Rock Running with his "Super Sleeper" Super Stock cars, Rich Overland, Sam Gianino, Ernie Petitt with the wheel standing Detroit Duster and many of Michigan's AA/Fuel Dragsters.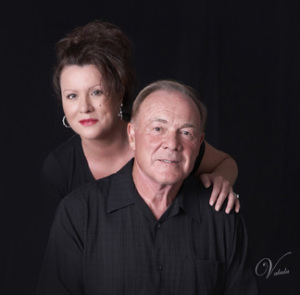 While Ed, his wife Juli, his family and crew successfully run the dragway today, Lapeer Dragway has always been about family. The track was built on family property in 1968, developed by brothers Ed and Mike, and run and managed by the family ever since. In the early sixties Ed was a street drag racer, and he quickly understood the need for somewhere legal and proper to race besides the streets. At that time, there was no other dragstrips in the surrounding area to run at, even though at that time there were about 12 or 13 strips open in the state.
With the two brothers at the helm, they started the track and opened it's doors on July 4, 1968, running under the AHRA sanction. In 1989, Ed purchased Mike's interest in the dragstrip and became the sole owner.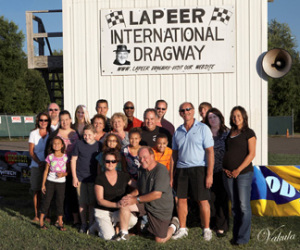 Lapeer Dragway is a wonderful complex, with a 60 foot wide racing surface, 4,000 foot long (one of the longest shut down areas), has 6 paved staging lanes, the latest computerized timing equipment, great grandstands and a concessions building. The track races cars, trucks, dragsters and even snowmobiles and quads.
The Vakula's love of racing is what makes Lapeer Dragway one of a kind.