Dennis Berry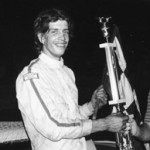 Dennis Berry is one of the most fierce competitors to ever pull out onto the race track. The Clio, Michigan legend left his mark and legacy on short tracks all over the Midwest. His career began in 1974 at 17 years old in the Flying Stocks division at Auto City Speedway. He stayed in that division until 1978, learning the ins and outs of short track racing. In 1979, Berry moved up to the Sportsman division and in 1980, and raced in that division until the end of the 1982 season, winning features, setting fast times, and continuing to build a reputation as a top notch competitor.
In 1983, Berry made the move to Super Late Models and ran the Michigan Speedway Promoters Association (MSPA) touring series and was rewarded with a second place overall finish, as well as handily winning the 1983 Rookie of the Year title that season. That year, he also captured the Rookie of the Year title in the Super Late Models division at Dixie Motor Speedway in Birch Run, MI while also finishing third overall in the track title chase.
Between 1983-1985, Berry was one of the top competitors in the state of Michigan at Auto City and Dixie, as well as Owosso Speedway in Ovid, MI; "The Trick-Track of the World" Tri-City Motor Speedway in Auburn, MI; and Whittemore Speedway in Whittemore, MI.
It was in 1988 that Berry got one of the biggest breaks of his career thanks to, Randy Hosler of Randy Hosler Pontiac. Dennis continued to race Super Late Models while making the move into regional traveling series' such as the ARTGO Challenge Series and the ICEMAN Super Car Series. It was in the ICEMAN Series. During his time with Hosler, the duo combined to win the first ever Main Event race in 1988, which was held at Sandusky Speedway in Sandusky, Ohio.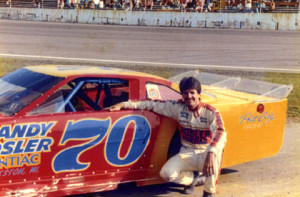 In his time with the ICEMAN Series, Berry established himself as one of the most successful drivers in Series history! He left his mark while the series itself was in transition from the Outlaw bodies and would eventually convert over to the more fan friendly template bodies in the early 1990s. However, despite all of his success, an ICEMAN Series Championship still eluded him.
At the end of the 1991 season and Berry joined forces with Mike Schwartz and continued racing the ICEMAN Series as well as Outlaw Super Late Models, mainly close to home at Auto City and Dixie and on off weekends from the ICEMAN Series. In 1993, Berry teamed up with ASA legend, Butch Miller for the Liberty Racing Team and finally after several years of trying, Berry got his first ever championship, a co-title shared with teammate Miller as they were both crowned the 1993 ICEMAN Super Car Series co-champions. The next year, Berry moved on to drive the Port City Racing House Car and had perhaps the most dominating season in ICEMAN Series history en route to his second straight series Championship.
Berry started the 1995 season with a win during Florida Speedweeks at New Smyrna. The season was successful from start to finish and Berry was again rewarded with his third consecutive ICEMAN Series Championship. He also made appearances in the Hooters Cup Super Late Model Series and in the fall Hooters Cup event in October at Toledo, Berry was victorious.
In 1997, Berry returned to Outlaw Super Late Model competition and captured the 1997 AC-Delco Challenge Series Championship at Auto City.
In 1998, Berry fulfilled a lifelong dream of racing at Michigan International Speedway in Brooklyn, MI making his debut in the ARCA Super Car Series and he made the most of his appearance by qualifying fourth and finishing an impressive sixth against a stacked field of ARCA competitors and future NASCAR stars. In 1998, Berry continued racing and won the Mudslinger 100 and the Firecracker 100 at Auto City in 1999.
Finally in 2005, Berry retired from racing after a stellar career. He had won three consecutive ICEMAN Super Car Series Championships and was one of the most successful driver ever in the history of that series. Over his 30-year career, Berry won over 150 feature events while recording over 200 top five finishes and over 300 top 10 finishes in feature races. He also holds several track records all over the Midwest that still stand today.
Nowadays, Berry is the car owner, crew chief, and father to 18-year-old son, Trevor Berry who races an open wheeled Modified.