Scott Brayton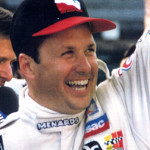 Scott Brayton started his love of racing early, age five to be precise, when he received a go-kart for his birthday. He graduated from go-karts to open wheel formula fords then an unprecedented jump to IndyCars. Anyone who has driven race cars competitively can understand the huge difference in horsepower and speed. To make this transition at age 21 made this even tougher.
Scott had a lot of success in racing, but it was his ever optimistic attitude that separated him from the rest of the drivers. Rich DeVos (owner of Amway, which sponsored Scott) once introduced him to a crowd of 25,000 Amway distributors as the brightest young man he ever met, coming from a man of his success this was a big day for Scott. Scott had just one podium finish in his 15 years that he competed in IndyCars, but he has set many records, one is that he is youngest driver to set in the front row for the Indy 500. He also won the coveted pole positions for the Indy 500 in 1995 and 1996, one of only nine drivers to accomplish back-to-back poles. Scott Brayton (2/20/1959 - 5/17/1996) was a winner in every sense of the word.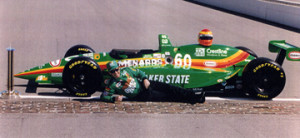 Here is a chronological list of Scott Brayton's career:
1975 - Raced formula karts
1978 - First year in Skip Barber Formula Ford, 5 victories, placed seventh in championship.
1979 - Won Skip Barber Championship, 9 victories in 14 races.
1980 - Competed in NE division Formula Ford, 14th in the standings.
1981 - Began IndyCar Career, had a 7th place finish in the inaugural Michigan 500.
1982 - Competed in just 5 events, with his best finish being 11th at the Michigan 500.
1983 - Competed in 6 events including finishing 9th in the Indy 500.
1984 - Brought Buick V-6 to Indy and set a stock block qualifying record, also ran 13 IndyCar events, best finish was 6th at Portland.
1985 - Established single qualifying record at Indy 500 (214.199 mph) Youngest driver ever in the front row.
1986 - Competed in oval races only for Hemelgarn Racing, qualified 4th for Pepsi 250 at M.I.S.
1987 - Competed in 5 race test for Amway, started 2nd row at Pocono 500.
1988 - Second year with Amway and competed in 12 events.
1989 - First season with Dick Simon Racing, 3rd with Amway, entered all 15 CART races with a career best finish 6th at the Indy 500.
1990 - 7th place finish in the Indy 500, six top ten finishes.
1991 - 9 top ten finishes, earned career high 52 points.
1992 - Career best 3rd place finish at Milwaukee, 7 top 10 finishes.
1993 - Finished 6th in the Indy 500, final year with Dick Simon and Amway.
1994 - First year with Team Menard, ran Indy only.
1995 - Won Pole Position with a four-lap average of 231.604, was senior driver in the race.
1996 - Won his second straight pole with Team Menard after withdrawing a unprecedented move in a remarkable career that tragically ended a week later in a practice crash that took his life.