Fred Alter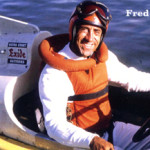 There were some great drivers of the Unlimited Hydroplanes that raced on the Detroit River for the Gold Cup, Silver Cup and International Harmsworth Trophy in the 1950's and 1960's. This was the "golden era" of boat racing, and Fred Alter was at the top of the list of great drivers.
A Native Detroiter, Fred grew up racing sailboats and then Limited Class Hydroplanes. He graduated to the big leagues in 1955 when he piloted Bill Stroh's Unlimited Miss Detroit in the Silver Cup. For the next twenty years, Fred was hand picked by boat owners like Jack Schafer (Such Crust), George Simon (Miss U.S.), and Joe Schoenith (Gale VI) to pilot their entries in races across the country, and Fred delivered.
His first big win in the thunderboats was in 1956, driving the Miss U.S. 1 to victory in the Indiana Governor's Cup race in Madison. From there, he never looked back, and won in such boats as Such Crust III, Such Crust IV, Miss Bardahl, Miss Budweiser, and Miss Vernors.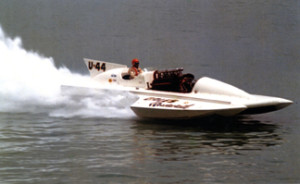 After retiring from driving in 1975, he concentrated his efforts on upgrading the Unlimited fleet, with the concept of the "kit boat", designed to allow some of the low-budget teams to race a state-of-the-art hull at a price they could afford.
In 1981, Fred became the commissioner of Unlimited Racing in America, and moved the sport forward by introducing new race sites and sponsors, and securing a National TV contract for the thunderboats on NBC. In 1983 he was inducted into the Unlimited Hydroplane Hall of Fame.
In recent years, Fred has appeared on the vintage race boat circuit with the Miss Vernors. Which is a replica of an unlimited hydroplane built by Fred and his crew.
Fred Alter had a long and sterling career in boat racing, and earned the nickname, "Fearless Freddie." Fred passed away in Florida on January 9, 2021.