Charles "Chas" Howe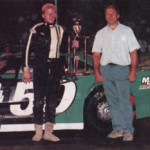 Charles "Chas" Kenneth Howe began his driving career in 1981. He won his first race in 1985 at Tri-City Speedway in 1985. He raced for 14 years and ended up winning 51 main events. During that period he races 307 times. He had won 17% of his starts. He finished in the top five 185 times (60%). Although he usually didn't run for point titles he did win the 1987 Tri-City championship as well as the 1991 and 1992 Auto City Speedway championships. Most of his wins came at Auto City and Tri-City, including winning the Mudslinger at Auto City twice (1990) and (1994). He also won three Ice Man races (all at Auto City). He also won the Fall Classic at Midvale Speedway in Ohio in 1987.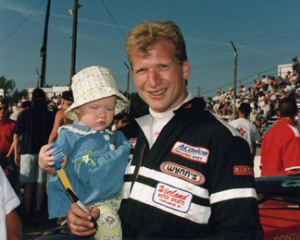 He finished 5th in his first ASA race.It was at Indianapolis Raceway Park (IN) in 1989. His best finished in ASA was second in 1990 at Tri-City. He also won the AC Rochester Series champion in 1991 and 1992.
Over the years he raced at 24 different tracks in eight states and three countries which included Canada and France, where he raced on the Circuit Paul Richard in a Formula Renault.
He was married to Dina Marie Simko in 1993 and they have three children, Charlie, Patsy, and Faith. Chas is very active in his community with his son especially in youth hockey.
Chas took over the precedency of Howe Racing Enterprises when his father Ed retired. HRE is world famous for their race cars and parts. Besides very popular in the U.S. and Canada, Howe cars can be found in northern Europe, and are present in Sweden, Finland, Norway, Denmark and in the Netherland.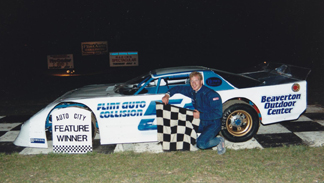 Chas and his son Charlie also race go-karts and they have won championships at Houghton Lake and in the Super Dirt Series, winning many go-kart mains across Michigan.
Career Highlights:
1985 - First Feature win - Tri-City Motor Speedway
1986 - Two preliminary wins - New Smyrna Speedway (FL)
1987 - Track championship and track record (18.35) - Tri-City Motor Speedway
1987 - 2nd to Ed Howe at the Mudslinger 100 - Auto City Speedway
1987 - Winner of the Fall Classic - Midvale Speedway (OH)
1989 - Winner of the June Bug 150 - Tri-City Motor Speedway
1989 - Finished 5th in first ASA Start - Indianapolis Raceway Park (IN)
1990 - Finished 2nd in ASA Carquest 300 - Tri-City Motor Speedway
1990 - Winner of the Mudslinger 100 - Auto City Speedway
1991 - Winner of the Colonels 100 - Auto City Speedway
1991 - Track Championship and AC Rochester Series Champion - Auto City Speedway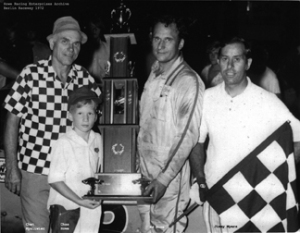 1992 - Track Championship and new track record (14.50) - Auto City Speedway
1992 - AC Rochester Champion with three wins in five races
1993 - Winner of the Colonels 100 - Auto City Speedway
1993, 1994, 1995 - Winner of the Iceman Series 100 - Auto City Speedway
1994 - Winner of the Mudslinger 100 - Auto City Speedway
1998 - Mid-Season Champion - Tri-City Motor Speedway
Started 307 main events - won 51 times (17%) - 185 top 5 finishes (60%) - 217 top 10s (71%)
72 DNFs (23%) - 77 preliminary wins - 99 times fast qualifyer (32%) - 5 point championship