Andy Bozell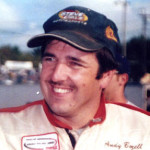 Andy Bozell has been involved in racing all of his life, as his father Gordy Bozell had already established his own racing career by the time Andy was born in November of 1963. As he entered his late teen age years, Andy was a major contributor to the upkeep of his dad's race cars and also worked for a couple of years in the late 70's and early 80's on his brother in law's late model. By the time 1983 rolled around, Gordy put his racing career on the back burner and got both Andy and younger brother Jeff into the sport as drivers of cars he owned. Andy began his driving career at Southwest Michigan Speedway (SWMS), formerly Mottville Speedway. In his rookie year he was the runner up track champion & followed up in 1984 again as the runner up. He began racing at Galesburg Speedway in 1985 in the sportsman division & he won his very first track championship. He stayed at Galesburg in 1986 & repeated as the track champ & won his first ever Endurance Event.
Andy switched back to SWMS in 1987 and was 2nd in the point standings for their Late Model division. He got his 2nd Enduro win at Kalamazoo Speedway in The Turkey Trot 250. In 1988 Andy captured his first track championship at SWMS & repeated as the Enduro winner at Kalamazoo. In 1989 Andy returned to Galesburg Speedway to compete in their Late Model division and while he was 2nd in the points that year, he had the most feature wins in his division with 16. He also traveled to Spartan and won their Harvest of Speed. Starting out the 90's, Andy got his 3rd track championship at Galesburg. 1991 was a major change for Andy as he made the move to make Kalamazoo his home track and was 4th in the standings. He won the Harvest of Speed for the 2nd time and also won 3 features when he visited Galesburg.1992 he finished 4th in points at K-zoo and won 7 out of 7 features at Galesburg. At K-zoo as in 1993 he won 4 features, including the first ever Kalamazoo Klash with a payday of $10,000. He was 3rd in points & was awarded the Hard Charger Award. He also raced in the ARTGO Series.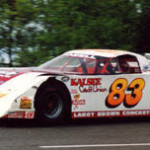 With 9 features in 1994, Andy claimed his first track championship at K-zoo and his first ever NASCAR sanctioned title. He finished 3rd in the Great Lakes Region. He repeated as winner in the Kalamazoo Klash and also won the Super Shoe Nationals. In 1995 he was 2nd in points and won the year end Season Championship. In 1996 he began competing in ASA racing on a part time basis and won a last chance race. In 1997, a new track, M-40 became a favorite spot for Andy as he won 9 features there. He also won his 3rd Kalamazoo Klash win. He returned to Spartan & picked up his 3rd Harvest of Speed victory. 1998 marked the beginning of an era, as Andy won track championship titles in the Super Late Model's at Kalamazoo Speedway and M-40 Speedway. He did this for 3 consecutive years (1998, 1999, and 2000). In the years 2001-2004 he won the track championship at K-zoo, making a total of 7 straight and 8 overall. With the title in 2004 he also won the Heartland Region for NASCAR and was 2nd in the National Standings. He is the only driver in the NASCAR Weekly Series to have won 7 Consecutive Track Championships. He extended this record by winning the Championship at Kalamazoo again in 2005, making the 8th in a row and 9th overall. In 2006 he won the first "Late Model Jones" at M-40 for a $10,000 payday. He finished 3rd in points at Kalamazoo, ending his 8 year reign in the Super Late Model division. Andy has compiled 16 track championships and 2 Enduro Championship Titles & well over 200 feature wins since 1983.
One of Andy's biggest money win of his career was in 2003 when he won the $20,000 Summer Sizzler Event at New Paris Speedway. He also raced consecutively in the first 17 Super Shoe Nationals, the only driver to do so. His most memorable feat is winning the first ever Kalamazoo Klash. He repeated as the Kalamazoo Klash winner in 2007, this time it paid a cool $25,000. But he says his biggest achievement is winning the Heartland Region in the NASCAR Weekly Racing Series in 2004.
Over the course of his career, Andy has raced at numerous tracks including: Kalamazoo Speedway, M-40, SWMS, Galesburg, Berlin, Spartan, Tri-City, Springport, Hartford, Butler & Owosso. Out of state tracks consist of: Toledo, Midvale, Sandusky, Columbus & Shadybowl (all in Ohio), New Paris, South Bend, Avilla, Baer Field, Angola, Illiana and Plymouth (all in Indiana), Rockford & Grundy County in Illinois, the Milwaukee Mile and Wisconsin International in Wisconsin, Hawkeye Downs in Iowa , Southern National in Kenley, NC., New Smyrna & Ocala in Florida, Elko Speedway in Minnesota, Jennerstown Speedway in PA & Birmingham International in Alabama.
He has competed in Super Lates, Limited Lates, Sportsman, Factory Stocks, Enduros, USA Modifieds, Midgets, Dwarf Cars, ASA & ARTGO. Andy has received many awards, including the Michigan Racing Scene Driver of the Year for 2003. He has also been published as he wrote an article on Winning the Big Dollar Races, which was published in the book "Spun Out! The Psychology of Stock Car Racing " by Tami Eggleston.