Chuck Roumell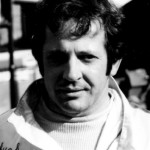 Chuck Roumell's long illustrious racing career began in 1970 racing on the dirt at Butler and Manchester Speedways in the modified sportsman division. Winning at both tracks was common early on and in 1972 Chuck was voted "most improved driver at Manchester Speedway while picking up the season ending 100 lap final at Butler Speedway, one of his biggest wins to date. The following year Chuck took the Tri-State Championship race at Manchester continued to pile up feature wins at each track. He continued racing at both tracks up through 1975 before switching to the popular Late Model division.
Chuck would team up with J.D. Kelly in the late 1970's and campaign the familiar #0 all over the Midwest and Canada. Chuck made the switch to pavement late model racing without hesitation and became a regular winner at Spartan, Flat Rock, Toledo, Mt.Clemens and Delaware Speedway in Ontario Canada. In 1981 Chuck would score his biggest race win to date taking the season ending Toledo 300 and $6,000 payday over a star studded field of entrants!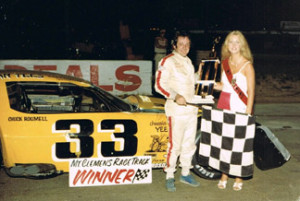 Chuck would join forces with the legendary car owner Stan Yee in the potent #33 ride in the early 1980's. The duo would rack up many feature wins and another shining moment in Chuck's career by capturing the Delaware Speedway Canada's annual McKerlie Millen 200 lap special along with the 1984 Mt.Clemens Track Championship.
Chuck tried his luck and competed in several American Speed Association (ASA) events in his own car during the 1980's. He put together some fine runs in these extra distance races.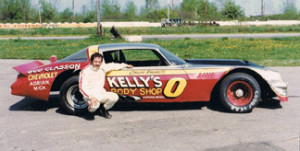 He also picked up a 100 lap Winchester feature win in 1988, which was a prelude to the prestigious Dri-Power 400. It was during this period when Roumell was at his best dominating at his favorite track the Toledo Speedway. Chuck captured consecutive track championships from 1988 to 1990. Within that winning reign Chuck also was the 1989 Iceman Season Championship, which was a series of 100 lap races on different tracks with Toledo Speedway being the home track. He won that series over some of the top talent in late model racing anywhere in the USA at the time.
Chuck also took some time to compete in some Automobile Racing Club of America (ARCA) events. He continued to race and win while dedicating a lot of his time to his thriving auto racing business Roumell Enterprises, which eventually after four successful decades of competing and winning on the short tracks of the Midwest he decided to hang up his helmet after the 2009 running of Glass City 200 at Toledo Speedway.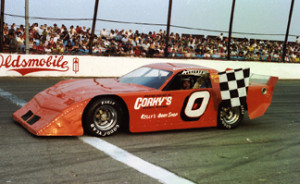 Chuck Roumell who was not only a great late model racer, but a man of high character and a true gentleman! He was always very friendly to fans and drivers alike, and was pleasure for us all to see him compete. The racing body of work which he has complied over the years is deserving of his place in the Michigan Auto Racing Hall of Fame!