Odie Skeen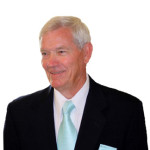 Odie Skeen served many different roles during his racing career – most notably as a car owner, crew chief, engine and chassis builder. He was a major contributor to the careers of Wayne Bennett, Larry Lamay, Tracy Leslie, Ray Nece, Benny and Phil Parsons.
Odie first competed in drag racing in 1959 on the 1/4 mile at Detroit Dragway when he made a pass in a '57 Ford Thunderbird in 12.89 seconds at 109 mph. Searching for more speed, he reworked a '55 Chevrolet sedan delivery truck and set a class record - 11.37 seconds at 127 mph - also at Detroit Dragway. Odie then decided to go oval track racing so in 1963 he built a '54 Ford late model stock car that he drove on the ? mile dirt oval at the Mount Clemens Race Track (MCRT). It was there that he met and partnered with Ray Nece. He built a '57 Ford super stock in which Nece won three 20 lap feature races during the '64 season at the MCRT.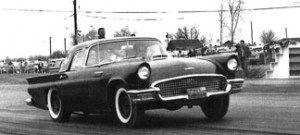 In 1965 and 1966 Odie teamed with Wayne Bennett notching three 20 lap, four 50 lap and one 100 lap feature wins and a runner-up finish in the '66 MCRT season point standings (Nece won the championship in the same '57 Ford that Odie built two years earlier). Bennett also won 11 of 22 feature races entered at the Michigan State Fairgrounds during this time. Their biggest win came in October of 1965 when Bennett won the "Pittsburgher 200" at the Heidelberg (PA) Speedway. In 1967 Benny Parsons took over the controls driving a '58 Ford in the super stock class at the MCRT and a '67 Fairlane in selected ARCA and USAC races. The team captured a win in the first leg of the "Mt. Clemens 200" and ran well enough to impress and obtain the support of Ford Racing. In January of 1968 Odie built a '68 Ford Torino for Parsons to run in the ARCA series.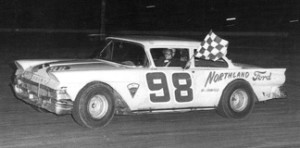 Together they won the "ARCA 200" pole at Daytona and won their first race at the Pan-American Speedway in San Antonio, Texas. Despite their success Odie decided to forego the frequent travel and stay close to home with his family. Parsons continued his ascent nationally winning the 1968 and '69 ARCA titles, the 1973 NASCAR Winston Cup and the 1975 "Daytona 500". While still assisting Parsons as time permitted, Odie reunited with Ray Nece. Over the next five years they won thirty-three feature races including the 1968 Hillbilly Hundred at the Pennsboro (WV) Speedway (they also set a new one-lap track record prior to the running of the '70 race). They won season championships in '69 and '72 at the MCRT. In 1969 Larry Lamay drove a team car - the same '57 Ford that Odie built for Nece in '63 - to three feature wins in the sportsman division. Lamay would go on to win late model titles at the MCRT and Checker Flag (Windsor, ONT) Speedway and an ARCA Series pole and race at the Toledo (OH) Speedway. Odie was recognized by the Michigan Auto Racing Fan Club as the "Late Model Mechanic of the Year" for his efforts during the 1969 season.
After Bennett and Nece retired and Lamay and Parsons were established, Phil Parsons (Benny's younger brother) and Tracy Leslie (Nece's protégé) began their racing careers.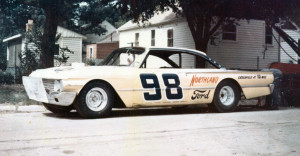 Odie helped Phil prepare his NASCAR Goody's Dash and Late Model Sportsman Series cars. They continued to work out of Odie's garage until 1982 when Phil moved to North Carolina and joined the Busch Series full-time. A veteran in both of NASCAR's premier series - winning at Bristol, Charlotte and Talladega - Phil continued to rely upon Odie's advice and assistance. Leslie never forgot the lessons he learned from Odie as a teenager in the early '70's while helping out on Nece's cars. Just like the younger Parsons, Leslie benefited from Odie's mentoring and would go on to win late model championships at the MCRT and the Toledo Speedway and was the ARCA Supercar champion in 1988.