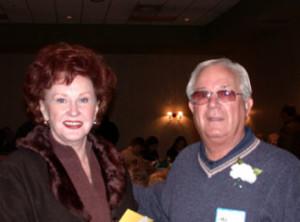 Jack Doering
Jack began his career in auto racing back in 1954 when he raced a 1936 Ford modified stock car at the Dixie Motor Speedway. Jack is a racer at heart unlike so many promoters who are in the racing business because of the money. Not that Jack is not a good businessman but he loves racing and he loves the racer.
It was in 1958 that Jack was at Auto City Speedway and through some circumstances he got involved with the track as pit steward. The following year the track was purchased by Joe Grabenhorst and Doering was managing the race track.
By 1962 Doering had bought a one-half interest in the Auto City Speedway and was in partnership with Grabenhorst. In the 25 years that the two partners worked together they had only one argument and Jack takes the blame for that one. When Grabenhorst passed away, Doering became sole owner of Auto City and Dixie Speedway.
When the Michigan Speedway Promoters Association was founded Jack Doering was not only one of the original founders but was considered the sparkplug behind it. One way to gauge the effect a promoter has had on the sport is to look back and see which racers graduated from his track and went on to stardom. Checking back into Auto City records produces track champions such as Johnny Roberts Sr., Jack Goodwin, Jimmy Roberts, Mickey Katlin, Ed Howe, Tom Maier and Art Sommers.
For many years Doering took a late model down to Daytona International Speedway for the Daytona 500 and made an attempt to win stock cars racing's most prestigious race, but finally realized that the once-a-year racer cannot be competitive at Daytona.
Because of his success at both race tracks, Jack is consulted by many of his peers, promoters of other race tracks. When a question comes up concerning a major problem in racing, the MSPA promoters look to Jack Doering for advice and seek his opinion. That indicates how much they trust his judgment and his business sense.
When daylight savings time and some other factors made it apparent that dirt tracks were in serious trouble in Michigan, Jack made the decision to pave Auto City Speedway and at the present time the track is drawing the largest crowds in the state of Michigan.
Jack Doering was involved in auto racing for all of his adult life and is one of the most successful promoters in Michigan.
He died on September 23, 2012. He was 78 years old.