Jim Gilmore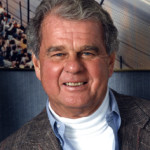 Jim Gilmore, having been born in the Gilmore and Upjohn family, could have spent his life clipping coupons of the stock he inherited. But this was not the stuff Jim was made of. At an early age he learned from his father that, "Money isn't a luxury, it's a responsibility."
Early in his youth Gilmore became fascinated with mechanical projects as he built miniature race cars which could achieve speeds of close to 50 MPH. Jim was also involved with the construction of the Gruff, the first radio controlled model airplane in the world. The Gruff today is displayed in the Air and Space Museum in Washington, D. C.
Jim Gilmore's first experience in a racecar was at the age of 13. He rigged up a large electric motor and mounted it in his red Radio Flyer wagon. Rigging up bicycle handlebars, he was able to get up to 25 mph, which was really flying for a little red wagon.
After marrying Diana and serving a term as mayor of Kalamazoo, Gilmore left the family owned Gilmore Department Store and began building his radio and TV broadcasting empire. It was in 1966 that Citibank took Jim and other preferred customers to the Indianapolis Motor Speedway time trials. Having few chances to unwind due to business commitments, Jim suddenly felt good about being at the Brickyard.
Wanting to get involved in racing, Jim got his feet wet by sponsoring Jack Brabham at Indy the following year. It didn't take long for Gordon Johncock of nearby Hastings, Michigan to approach Gilmore for sponsorship.
Although Gordy crashed the Gilmore entry at Indy in 1967, the racing bug by now bit Jim hard. The Gilmore sponsorship stayed with Johncock for the next several years till Gordy left to race for the Gulf McLaren team. Gilmore sponsorship showed up on the Indy car circuit next with Art Pollard and then Mel Kenyon.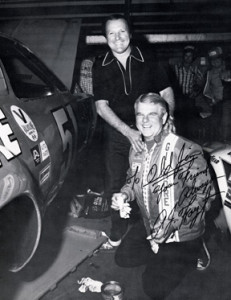 It was late in 1972 that A.J. Foyt lost his Sheraton Thompson sponsorship. Johncock encouraged Foyt to give Jim Gilmore a call regarding sponsorship and when Jim heard A.J.'s Texan drawl on the phone line he could hardly contain his excitement. Jim and A.J. quickly came to contract terms and the Gilmore Foyt team was born. But it was in his first year with Foyt that his former team driver, Gordon Johncock, won the 1973 Indianapolis 500. Gilmore felt elated for Gordy and confident of the future for the Gilmore Foyt team.
It was in 1977 that the Gilmore Foyt team crossed the finish line ahead of 32 other racers and gave A.J. his 4th Indy 500 win. After A.J was presented the winners ring the next night, he took it off and handed it to Jim, saying, "Here, no matter what happens, you can say, this is something we did together." Jim has never taken the ring off.
The Gilmore Foyt team is still actively seeking an unprecedented 5th Indianapolis 500 victory. For Jim Gilmore never dwells on the past, no matter how glorious, but looks only to the future.
Jim Gilmore died in an auto accident on December 31, 2000.