Patty Adema Senneker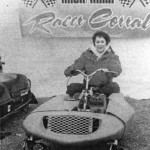 Patty Adema Senneker was born on June 30, 1946 in Connellsville, PA, literally a "coal miner's daughter'. They heated their home with a pot belly stove and had an outhouse. The school she attended also had an outhouse. Patty's family did not have indoor plumbing until they moved to Grand Rapids, MI when Patty was 14 yrs old. She and her sister thought they had, "died and went to heaven", the kids in Michigan had bikes, sidewalks to ride their bikes on, toboggans and sleds. They only had their mom's cookie sheets to slide down hills! Patty Was 14 when she met the "love of her life", Jim Adema, at a church in Grand Rapids and her life got, "very exciting". It was at the Martin Dragway in Martin, MI driving an El Camino truck that Hooked Patty. She didn't have a driver's license and couldn't reach the pedals, but learned quickly how to shift a 4 on the floor and kicked butt! From that moment on it was all about
racing for Patty and Jim.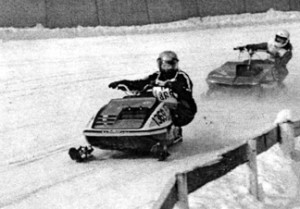 Together they drag raced cars, go karts and began their livelihood racing snowmobiles. In 1968, they were married, went to Alaska for their honeymoon and returned to G.R. to race snowmobiles that winter for Todd Fullbright who owned Watercraft Sales in Rockford.

Patty & Jim enjoyed grass dragging sleds in the summer and circle tracks in winter. They held the land speed record for drag racing at Cayuga, Canada where Patty ran 94 mph and Jim beat her with 99 mph. Now keep in mind Patty only weighed 90 lbs and stood 4'11"! Together they raced in Quebec, Ontario in 1974 men's 440 Mod class, Patty finished 3rd and Jim won. Patty stated, "That was one race I will never forget! It was all Canadian men, 'One mean race'!" In 1973 Patty won the Molson Women's Cup Championship at Petersborough, Ontario as well as kicking butt grass dragging in Lancaster, New Hampshire that year.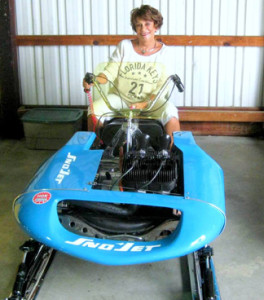 In 1974 they raced at Eagle River, Wisconsin and won Mod 0, Mod I, Mod II, Mod III, Mod IV, Mod V in the 2 day event Jim & Patty won $47,000.00. Patty was quoted saying, "not bad for a 'week of fun'!" They ran all modified class, nothing was stock that Jim Adema had! The traveled from the East coast to the West Coast racing snowmobiles for a living. When they were not racing they were BOTH manufacturing snowmobile parts in their shop. Patty was in her words, "wife, mom, milling parts in the shop, shipping & receiving and a racer". She was involved in every aspect of the sport, side by side with her legendary husband, Jim Adema.
Together they ran MISA (Michigan International Snowmobile Association) races and from there went into USSA (United States Snowmobile Association). Patty took time off from racing the winter circle in 1972 when their son James Michael was born 2/18/72, but she did drag race the entire summer of 1971 and won Powder-puff Championships in MISA. Once again, the summer of 1975, Patty took time off away from the summer drag racing when their daughter Amy Jo was born 7/14/1975. Tragically exactly five months to the day her life was drastically changed when Jim was fatally injured at Ironwood, MI on 12/14/1975. That ended her snowmobile racing career. Patty feels that she has lived a very "exciting life" to say the least.
She went from being a coal miner's daughter with no indoor plumbing to racing snowmobiles and raising two beautiful children and later married another racer on 10/5/1977, Bob Senneker.