Mort Anderson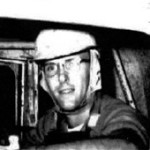 Mort Anderson (Morten Andresen) was a gentle guy in a tough guy sport. In his 15-year racing career, he was a top competitor but also had time for family and helping out children and others at the track. His career came to an end Aug. 5, 1967, when the Greenville, Michigan native died in a crash at Mobile International Speedway in Mobile, Alabama.
"Mort's personality was outgoing. He'd go to the kids' games and make friends with whoever was sitting next to him," recalled his widow, Donna. "At the racetrack, he'd smile at everybody and talk to them." She added his favorite line to her was she was "gonna make such a beautiful widow." The line would prove to be prophetic.
He got the racing bug at 16 when he and Charley Young, with whom he worked at Federal-Mogul, built a jalopy stock car together. Anderson, Young and another worker were supposed to split time driving the car, Donna Anderson said, but only Mort did the racing. "The die was cast in racing for him, and he would up end up dying in a race car," she said.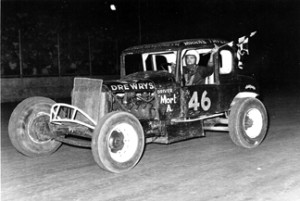 Anderson, who did much of his racing at Berlin Raceway, first began appearing in the standings in 1958, participating in the strictly stock division. He took second place that year. In 1959, he climbed to the top of the standings and captured the strictly stock championship while winning seven features. He defended that title in 1960, winning eight features. Within his career, Mort also competed at the following MI tracks: Crystal, Harvard, Greenville 4H, GR Speedrome, Big Rapids, Hartford, Dixie, and others. Mort also drove cars at times driven by many MMSHOFamers including Jimmy Nelson, Dick Carter, John Logan, Art Bennett, Nolan Johncock, Sam Sessions, Cy Fairchild, and Norm Brown.
Leonard Banner, car owner, got Anderson started, but when Banner got out of racing, Anderson built his own sportsman stock car.. He drove two divisions for the remainder of his career: his own sportsman and a super modified for various car owners including Pete Webster, Lyle Roberts, Dick Hambelton, Bob Shattuck, Ambrose Brothers, Wayne Harrington, Larry Gathman, and Bob Dorsey.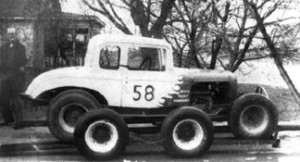 In 1961, Anderson moved to the sportsman division and finished fourth, capturing five features. He followed up in 1962 with the championship with nine feature wins. He was seventh in the point standings in 1963 with three feature wins.
By 1964, Anderson moved up to the top division of super modifieds, where he finished ninth in points and won one feature. 1965 was a great year: he took fourth in the point standings and had three feature wins. He slipped to 12th in 1966 with one feature win. At the time of his death in 1967, Anderson was in sixth place in points and had won one feature at Berlin Raceway.
"We drove all night to get to the racetrack," Donna recalled of the trip to the World 300. "We had our camper and we took turns getting some sleep. We got there early and Mort was on the track early in the morning and was warming the car up."
Anderson was driving the No. 29 super modified car owned by Bob Shattuck of Portland, Michigan. At 9:30 a.m., he warmed up his car on the paved track to get a feel of where the groove might be.
Gradually picking up speed, he swung up to the outer groove for a few laps. Suddenly, Anderson lost control on the backstretch and tried straightening out his car before he plunged over the embankment backwards. The car stopped without turning over. Track officials said the bolts holding the driver's seat sheared off and he was thrown into the steering wheel, causing internal injuries. "As soon as it happened, I began running over to the car. My brother-in-law, John, got there first and came
running back to me and stopped me. I asked him if it was bad. He said yes … you don't want to go there right now," Donna said. "We drove to the hospital, but by the time we got there, he was gone."
Donna said there were 52 bouquets of flowers at the funeral "from people who loved and admired him."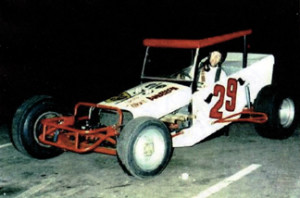 "I will never forget his first race," said Dick Mysliwiec, Berlin Raceway official.. "Mort was driving in the first heat race when he spun on the backstretch. The wrecker which the track hires for towing moved in.
"With the race running the caution flag, Mort offered the driver two dollars to tow his car off the track. The driver tried to explain there would be no charge for his services, but Mort was insistent. 'Either take the two bucks or I will push the car myself,' Mort demanded."

Dick Beebe wrote in the MARC Times racing paper that Anderson was "a fine and true friend," and "one of the few drivers I've ever known that, even with the ever presentness of death, he kept his cool at all times."