Frances & Richard Duff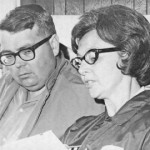 Frances and Richard Duff, two long-time motorsports officials devoted their lives to the sport of auto racing in the Midwest.
While both worked "normal" jobs throughout the week, for more than 25 years they together spent virtually every weekend throughout the racing season traveling across the Midwest scoring major short track races from Heidelburg to Fort Wayne, to Eldora to Mt. Clemens and beyond.
They were also the chief scorers at Flat Rock and Toledo Speedway for over 20 years. Additionally, when time permitted, they traveled with the Automobile Racing Club of America "new cars", and lined scored – by hand – races that were upwards of 500 laps. They were known not only for their accuracy but their fairness; while they were friends with virtually everyone in the pits, they never let those friendships cloud their judgment while in the judge's stand.
Together they scored virtually every major race in the Midwest, including the Glass City 200 at Toledo, the first World 100 at Eldora Speedway, and they oversaw scoring when Michigan International Speedway opened in 1969. It didn't matter where they went, from the pits at Oakshade Raceway in Ohio to the garages of Daytona, they were known and respected everywhere. Whether it was Joy Fair and Bob Senneker or Darrell Waltrip and Ned Jarrett, Frances and Richard had friends everywhere.
Once, while working for DiGard, there was a scoring snafu and NASCAR's chief scorer Morris Metcalfe, despite his knowledge and years of experience, just couldn't figure out who belonged where. He asked Frances for help and she put the final results together. Morris always looked to Fran for a helping hand and she was happy to provide it.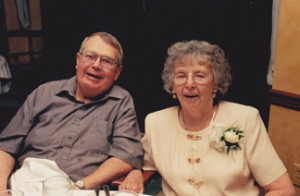 Another time at an ARCA race at Toledo, scoring cards were out of order and didn't match the line scoring, and the race winner was in question as a result. She worked well into the night and next morning, going over each and every scoring card by hand, and discovered the driver flagged as the winner had not made a mandatory pit stop and the driver credited with second was the actual winner. It was that attention to detail that made them the best scorers in the Midwest, and several tracks in the area still use techniques developed by Fran and Dick Duff to backup today's modern electronic scoring systems.
Fran and Dick were both founding charter members of the Michigan Auto Racing Fan Club in 1965. Frances also served as its Vice President for many years, while Dick served as the group's publicity director until 1985. They frequently compiled results and news stories, submitting them to National Speed Sport News, MARC Times, Mid-American Auto Racing News, and many other trade papers.
In 1985, they relocated to Charlotte, where Richard served as head of accounting for his son-in-law Bill Gardner's DiGard Racing. While she retired, Frances still traveled to the races and served as the team's scorer. Richard later worked in payroll and accounting at Hendrick Motorsports. While at HMS, Richard was part of an organization that won over 100 NASCAR races and 6 championships. He retired from Hendrick after for 20 years in 2007 and he was honored by team owner Rick Hendrick for his 20 years of service.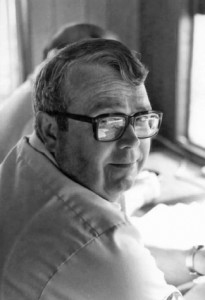 Motorsports was also a family affair for them as they often traveled with many of their children and grandchildren. Their son Alan and daughters Paula, Mary, Chris and Amy were fixtures at Flat Rock and Toledo both in the scoring tower and on the midway as they also sold programs and trade papers. Daughter Chris was also a part of the team, scoring many races at Toledo and Flat Rock as well as Lansing, Jackson and many other midwestern tracks before she married NASCAR team owner Bill Gardner. Their grandson Charles Krall has also followed in their footsteps, working for many years in the NASCAR Camping World Truck Series and now serving as PA Announcer at Michigan International Speedway and as the play-by-play voice for the ARCA Racing radio network.
Frances and Richard returned to Toledo in 2007 where they kept in contact with numerous racing friends and attended racers reunions until there health wouldn't permit travel. Frances passed away in April, 2012 while Richard passed away in 2014. Both were remembered by dozens of friends from their time in racing here in the Midwest, while Dick was remembered with tributes from the likes of Ray Evernham and Rick Hendrick. Mr. Hendrick often credited Dick's accounting guidance for keeping HMS solvent in it's early years.

Their contributions to the sport should not be forgotten as these two unsung heroes of Michigan auto racing worked in the scoring tower to ensure each driver was scored correctly each week and devoting their time for the Michigan Auto Racing Fan Club. Both were most deserving of this recognition and induction into the Michigan Motorsports Hall of Fame.
Frances Adams Duff (1923-2012)
Richard S. Duff (1924-2014)