John Hotchkiss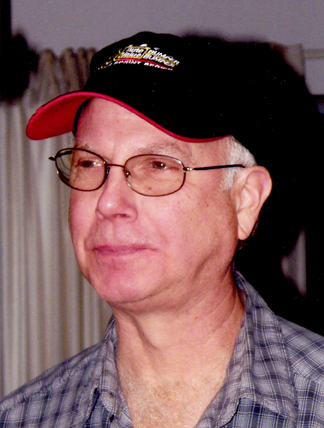 Back in the mid 60's during summer breaks from school John spend a month with his Uncle Wayne, Aunt Ruth and cousin Kenny Hamilton who lived a couple miles from Butler Speedway, and they'd go the races every Saturday night and cheer for Don Taylor, Dick Crup, the Valentine Bros., the Slades, Sparky Young, Hank Lower, and his favorite, Jack Sharp. John even got to ride around the track on Jack's nerf bar.
In 1973 Butch Dowker, Spike Miller and John built a '69 Camaro that Butch Fedewa drove for them in '74. While they were in Fla. racing it, Fred Seltenright was helping us,and out of the clear blue he called me "John Boy" and of course it stuck. In '75 John Boy raced his way to Rookie of the Year at Butler with a little 327 engine. He went on to win numerous heat and pursuit races until the late models were kicked out in 1983, with a who's who of drivers like Don Taylor, Joe Dorer, Farmer Budwitt, "lil" Joe Bennett, Joe Romeo, Ben Snider, Bob Flinn, Gary Fedewa, Dick Crup and so many of the great ones. John was devastated at the time but that move made me venture out to MORE tracks like I-96 on Friday nights, Hartford on Saturday and Owosso on Sunday when it was dirt. He was leading the points in '83 at Hartford when the track closed.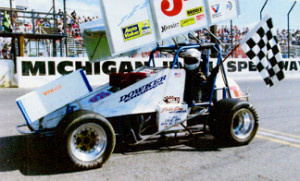 With some tracks closing and others going to blacktop John Boy decided it was time to change so I had the opportunity to buy Jim Scriba's Howe car after Gary Fedewa won the Harvest 100 at Spartan Speedway with it in '83. In '84 John won my first asphalt feature at Spartan Speedway and another 12 shows at Galesburg through '87. In the late 80's through 1990 he had the great opportunity to drive Art Woods IMCA Modified along with Ken Love as his partner, Ken and John won often for Art and Linda. He remembers going to Florida in 1990 and winning the first race of the new decade at Lake City.
When Tim Fedewa moved to North Carolina he left his short track car for John to campaign, and he ran it to second in points to Doug Finley in '92 at Spartan Speedway. During the winter of '92 John was whining to George Gustafson about only running at one or two tracks. He wanted to travel, so George got John hooked up with Jesse Fordyce, who had a sprint car without an engine so John had my late model engine converted to a sprint engine and went on to win the Rookie of the Year in the SOD series which at that time ran dirt and asphalt.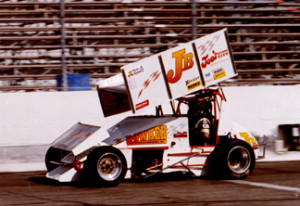 The next year he bought an awesome car from Tony Nosal that Gary Fedewa raced to many feature wins and fast times. In July of' 1994 my crew and I took the car south to run at the famous Hickory Speedway in N.C., but we were making such good time on the highway we had time to go on down to Florence S.C. just south of Darlington to race the Friday show at the I-95 Speedway where we promptly lapped all but Dave Steele and Steve Butler, which was one of the very highest of my highlights. He sold that car to some friends in South Africa and they won track Championships with it around Johannesburg.
In February of 2000 John had the opportunity to go to South Africa along with 6 other drivers to race our cars that we sent over against them. He had the honor to drive Art Braithwaite's car and was able to win his last feature at the Dunswart Speedway.
Tony Nosal reminded me the other day that racing has provided us with most of our friends ARE one big family.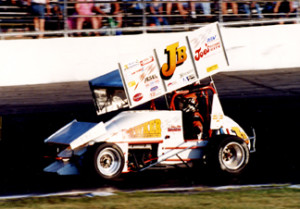 Another proud award John had was when he received is the Curt Kelley "Ironman" Memorial in 2001!! This is extra special as it was the year after John's Dad died.
John's biggest THANKS go to his Mom Tressie and his late Father Owen for all he put them through, They were my real heroes.