Mark L. Nowicki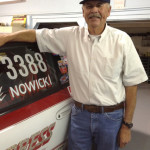 Mark L. Nowicki was born on September 26, 1950 in Detroit, MI, where his love of motorsports began. At age 16, unbeknownst to his parents, Mark raced his mother's 1965 Plymouth Belvedere at Detroit Dragway and Lapeer Dragway. His first legit race car was a 1965 Plymouth Barracuda which he named the "Improvisor".
In 1973, Mark and his wife Elaine moved to Gaylord, MI to open a heavy highway construction business, start a family, and continue racing.
Mark and Elaine still reside in Gaylord, operating their successful family business, M&M Excavating.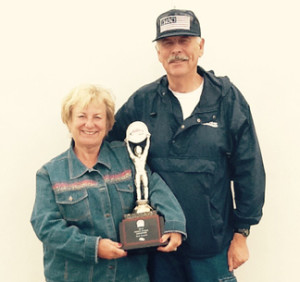 In more recent years, they have begun to winter in Florida, allowing them to race throughout the year.
In the early 1980's, Mark bracket raced at Central Michigan Dragway with a 1973 Dodge Dart. By the mid-1980's, Mark modified the Dart to compete in the Super Street category, racing against competitors like now-Pro Stock standout Larry Morgan. In NHRA Division Three Points, Mark scored a season high of 3rd with the Dart in the Super Street category. Mark is a member of the TRW 900 Club and a recipient of the Perfectly Strange Award. Beyond its impressive performance, the Dart was a pristine car that demanded a second look. The car was featured on the cover of Mopar Performance Parts Engine and Chassis Manual alongside Carroll Shelby, and on a Mopar Performance ad with Shirley Muldowney, with the Dart's specs featured to build a competitive bracket racing car.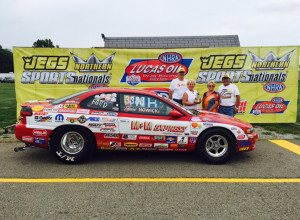 After retiring the '73 Dart, Mark shifted his focus to building a 1990 Dodge Daytona into a front-to-rear wheel drive conversion to compete in the new NHRA Super/Stock GT classes. The car was the test vehicle for Chrysler's front-to-rear wheel drive conversion kits, and was featured in many magazine articles and Chrysler promotions. With this car, Mark won back-to-back NHRA Division 4 point events at State Capital Dragway in Baton Rouge, LA in 1997 and 1998, defeating World Champions Greg Stanfield and Edmund Richardson along the way.
In the winter of 1998, Mike Pustelny of MPR RaceCars built a brand new Dodge Avenger for Mark. This new Super/Stock GT car was debuted at the 1999 NHRA GatorNationals in Gainesville, FL, at which he won his class title on the first outing. Mark has more than 60 individual Super/Stock GT class wins at national events, including over 15 at the prestigious NHRA U.S. Nationals. He has also held the National Record in each of the several GT classes that the Avenger fits into. Other major career highlights include:

2001 #7 in NHRA Division 3 points
2003 #6 in NHRA Division 3 points
2008 #3 in NHRA Division 3 points
2008 #7 in NHRA World points
2008 Super/Stock Eliminator runner-up, NHRA U.S. Nationals
2009 #2 in IHRA Division 3 points
2009 Mopar All-Star
2009 Super/Stock Eliminator runner-up, NHRA Lucas Oil Nationals, Brainerd, MN
2010 Super/Stock runner-up, IHRA Summit Pro-Am, Immokalee, FL