Paul Weisner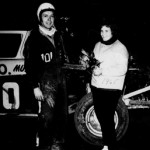 Paul Weisner is a native of Muskegon, MI, born there in 1934. Paul's racing career spanned the years 1958 to 1979. From 1958 through 1967, Paul raced primarily at Birchwood Speedway, now known as Thunderbird Raceway. Highlights from those years include: '58-'64, won many heat and feature races and a Figure 8 championship; and in 1965, won the Season Championship in both Figure 8 and Class A.
Paul also ventured to Berlin Raceway in '65, winning a Sportsman Modified feature in May, and a Semi-Late Model feature in July.
In 1966 Paul won the very first dash, pursuit, and feature of the season at Thunderbird. However, he later was hospitalized for a broken back after a serious several roll-over crash at Hart, MI. Paul came back in full force in 1967 by winning the Season Championship at Birchwood (Thunderbird).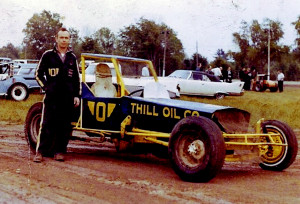 In 1968, Weisner began competing regularly at Berlin Raceway in the 6-cylinder division. That year, Paul won 7 out of 8 races that he competed in. In 1969, Paul won the Berlin Hobby Stock Championship, his first of three at Berlin.
In 1970, Paul won an important feature in August at Kalamazoo Speedway, and won Kalamazoo's Hobby Flyer Championship. With 12 feature wins, he also secured his second straight Berlin Raceway Hobby Stock Season Championship.
1971 found Paul winning a 75-lap Invitational at Berlin, two feature wins at Hart, and won 5 out of 6 Marc Times Racing News 6-cylinder Invitationals throughout the season, on both pavement and dirt! He also won the grand opening race at Clark's Motor Speedway, now known as I-96 Speedway. Paul was the only 6-cylinder in a field of race cars with big-block V-8 engines. In September, Weisner won a 100-lap Invitational at Berlin, and with a season total of 6 features, he nearly won his third straight Hobby Stock Season Championship with a 2nd-place finish.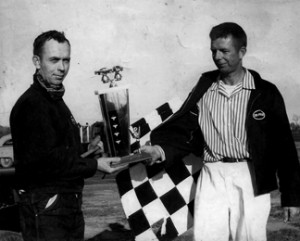 In 1972, Paul indeed won his third Hobby Stock Season Championship at Berlin.
From 1973 through 1976, Paul competed in the Late Model division at Berlin and other Michigan tracks.
1977 found Paul Weisner back in a 6-cylinder car driving for the Cutler Brothers at Berlin. He won several features that year, and won the Spring Championship.
In 1978, Paul continued with a 6-cylinder car, racing at both Berlin and I-96, winning features at both tracks.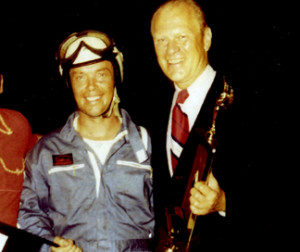 After totaling his car in a severe 1979 crash at Berlin, Paul Weisner elected to end his successful racing career. With 46 feature wins at Berlin Raceway, he is rated in 12th place on the all-time feature win list as of the April, 2011 publication of this biography.
Paul died August 3, 2011 at the age of 77.