John Vineyard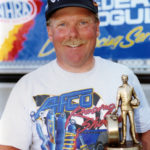 Like many racers, John Vineyard from Almont, MI grew up as a certified car nut. Unlike many of today's racers however, his automotive interest was not following in the family's footsteps. In fact, despite John's two World Drag Racing championships, 1996 NHRA Super Gas and 2003 IHRA Super Rod, his father still thinks he is nuts for doing what he does.
At the age of 17, John began racing his hopped-up street-driven Volkswagen. Since Motor City Dragway did not have a suitable class for the car, they created a class just for him, "Bug Modified". Of course, as the first competitor in the class, he became the track record holder in his first run down the dragstrip!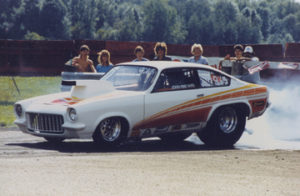 As Bracket racing was increasing in popularity at that time, John switched his focus to that type of Drag Racing, which he continued to pursue for a number of years. In 1982 he gave his first indication of what future successes were in store by winning a major association Divisional points race at Central Michigan Dragway. This Super Street category win was accomplished with a 1963 Chevy II. This was John's first taste of success at the Divisional Level. Unbelievably, despite this initial "major league" success, he did not try that level of racing again for another seven years. Instead, he continued to bracket-race the Chevy II locally for three more years, and then advanced to competing with 427 cubic inch, big-block Chevy Vega.
In 1986 and 1987, John elected to concentrate on a point championship at Ubly Dragway. After a determined effort, John won the track's Super Pro bracket championship, and then captured the overall track champion point title.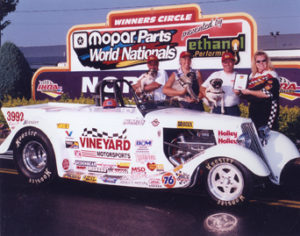 In 1989, racing a 534 CID Chevy-powered Pontiac Grand Am, John won his first National Event Eliminator title by winning the Super Rod title at the IHRA World Finals, 8.90 seconds @ 163 mph. In 1991 he began construction of a 1933 Ford Roadster, which is still his current racecar.
In 1994, John made his first concerted effort to chase a National/World point championship, and fared very well with a respectable 11th finish in the IHRA Super Rod category. During the years from 1995 to 2001, John chose to focus on NHRA events, winning a number of National and Divisional events. In addition to his 1996 NHRA Super Gas World Championship, he also finished #2 nationally in 1997 and 1999. He also earned two Divisional titles, two Divisional runner-ups, and also finished in the Top Ten Divisionally every year but one during that seven-year stretch.
In 2002, John made the switch to run in the IHRA Super Rod category, in which he won his Divisional title and the placed 2nd in National/World points. 2003 proved to be even a better year, as John captured the IHRA Super Rod World title and won his Division Super Rod championship!
John Vineyard has secured two World championships, three World championship runner-ups, four Divisional season championships, five National event eliminator titles, two National event eliminator runner-ups, eleven Divisional event race wins, and runner-ups at six other Divisional event races. John was voted the NHRA Division 3 Driver of the Year in 1996.