David Hilliker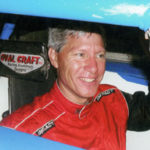 For Midland, Michigan's David Hilliker, auto racing is a pastime that goes far beyond the boundaries of a catch fence; instead it is a deep rooted passion that was ingrained from childhood. A childhood that included his father, uncle, and cousins all racing at least in a limited capacity on the Mid-Michigan dirt tracks.
By the time David was in his teens he had begun to dabble in motorsports,but that of a two wheeled variety, meanwhile his brother Steven had started competing in the Street-Stock division at Mt. Pleasant Speedway. Just before David's 16th birthday Steven built a Super Late Model and handed his old #21 Stocker down to his little brother. David was ecstatic to strap-in and when the night ended it found him sitting in Mt. Pleasant Speedways victory lane after his first ever feature.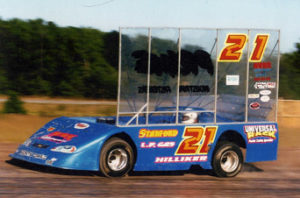 From that summer night in 1980, David knew he had found his passion and over the course of three decades he has amassed and an impressive number of victories (well over 125) both on dirt and asphalt. In the Outlaw Late Models David has dominated capturing 46 victories in 71 starts since 2000, including ten-straight victories throughout 2006-2007. In 2015, Hilliker captured the Late Model Track Championship at Tri-City Speedway. Some of Hilliker's other notable accomplishments include:
Merritt Speedway Street Stock Champion (1981)
Mount Pleasant Speedway Pro-Stock Champion (1988)
Four Consecutive Merritt Raceway Pro-Stock Championships (1988, 1989, 1990, 1991)
Five-Time Merritt Speedway Late Model Champion (2006, 2008, 2011, 2013, 2014)
Tri-City Speedway Late Model Champion (2015)
Three Consecutive Dealers Choice Pro-Stock Wins at Crystal Motor Speedway (1988, 1989, 1990)
Two-Time Dealers Choice Saturday Night Special Winner (1990, 1991)
Merritt Speedway Pro-Stock Invitational Winner (1990)
Three-Time Woodtic 100 Pro-Stock Champion at Merritt Speedway (1989, 1991, 1992)
He was the Sportsman Champion (1985) and Pepsi Challenge Pro-Stock Series Winner at Merritt Speedway (1988)
MSPA Series Pro-Stock Win at Merritt Speedway (1989)
Top-5 points finish in the AC Asphalt Delco Late Model Series (1993)
Auto City Speedway Iceman Super Late Model Series 50-lap win (1993)
Twin-50 Super Late Model Winner at Auto City Speedway (1993)
Five-Time Merritt Speedway Sportsman of the Year (1981, 1982, 1996, 2011, 2013)
Auto City Speedway Sportsman of the Year (1993)
Merritt Speedway Most Popular Driver as Voted by the fans (1984)
Merritt Speedway "Easiest to Get Along With Driver & Crew" as determined by staff (2005)
Michigan Racing Scene Driver of the Year (2006)
Standing Winged Outlaw Late Model Track/All Time Record holder at Cherry Speedway, Crystal Motor Speedway,
DeVos Place, Oakshade Raceway, Merritt Speedway, Mt. Pleasant Speedway, Thunderbird Speedway and Tri-City Speedway.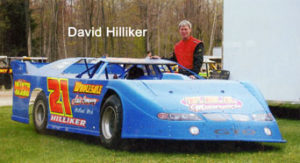 Despite a broken back (1999) and a broken femur (2010); David has fought his way back into the drivers seat when it was thought to be impossible and with over thirty years of driving experience he continues to impress fans with his smooth driving style and kind and humble demeanor.
For the proprietor of Hilliker Glass, racing is much more than machinery and competition, it is a community, "It's a family setting, my kids; Kayla and Derrick have been coming with me since they were born and my brother Steven is still here with me. We have both his Pro Stock and my Late Model in the garage so we can work on them together. It keeps us close as a family and that's pretty special to me. Even us racers, it's like a family, your fiercest competitor on the track is often the one helping you get out there. There is just a lot of respect that goes around"
In his 35 plus year racing career, David has raced at 20 tracks in Michigan (Auto City Speedway, Butler Speedway, Cherry Raceway, Crystal Motor Speedway, Dixie Speedway, DeVos Place, Hartford Motor Speedway, I-96 Speedway, Kalamazoo Speedway, Merritt Raceway, Mt. Pleasant Speedway, Onaway Speedway, Owendale Speedway, Owosso Speedway, Spartan Speedway, Springport Speedway, Standish Speedway, Tri-City Speedway, Thunderbird Raceway, Winston Speedway, and Whittemore Speedway), five in Ohio (Attica Raceway Park, Eldora Speedway, Fremont Speedway, Limaland Motorsports Park, and Oakshade Raceway) and several in Canada and has won races at 18 different tracks.
Hilliker has been sponsored by many wonderful people throughout his career, including Berl and Sheri Denslow, who owned his asphalt late model in the early '90s, as well as Quinten Tifft, who provided David with a dirt late model and hauler from the late '90s up until 2008, and still sponsors much of his racing efforts. Hilliker's other current sponsors include Stanford LP Gas, Midland Steel, Wholesale Auto Company, and Prime Industrial Fasteners.